Worth repeating: Sometimes the simplest solutions are the best
I originally posted this in 2013. I still love my black hand towels!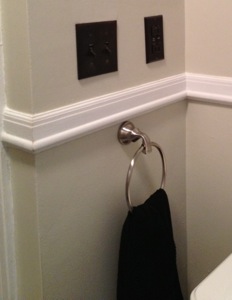 I had one of those "Why didn't I think of that before?" strokes of brilliance that illustrates how sometimes we overlook the most simple solutions.
I had white towels in my bathroom, including the hand towels. I use mineral makeup, which I love, but I do hate the powdery mess it makes. After applying makeup, I would wash my hands and dry them on the towel. Perhaps because I'm always in a hurry, sometimes makeup residue would remain on my hands and get transferred to the hand towel.
I put up with this for literally years, lamenting the demise of the towels. (Even bleach didn't seem to help.)
Then I redid my bathroom, which gave me the opportunity to re-think my towels. The new bathroom is beige with white trim, with silver and black accents. That's when it hit me: I should buy black hand towels! They not only look good, they're functional. Now if there's makeup residue on my hands, it doesn't show on the towels.
What could be more simple? Sometimes the simplest solutions really are the best!
Tagged with: decor, problem solving, simplicity, worth repeating