Worth repeating: To work or not to work on airplanes?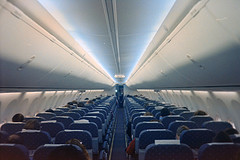 I'm flying to the Pacific Northwest on Saturday, so this is a timely article for me. I originally wrote it five years ago (almost to the day!) and I still have the same quandary when I travel. Re-reading this post makes me want to take it easy when I'm on a plane.
I'm at the end of a week-long trip and this morning I get on an airplane. This has been a fairly leisurely trip, not too work intensive, and I'm pretty mellow and relaxed. But on Monday, I'll have to hit the ground running.
So the question is, do I try to focus on work while I'm traveling and play a little catch up? Or do I take it easy, enjoy my novel and carry on the mellow feeling until Monday. (I'm traveling this morning to Ohio for a family bar mitzvah, so I don't get back to real life until Sunday night.)
Ordinarily, I think I'd write out a to-do list and see how much I could get done, especially since I personally find airplanes a great place to concentrate.
But last week, I read an interview on Lifehacker with Evernote CEO Phil Lubin and I took note of this statement:
I don't work on airplanes. I sleep, I play Minecraft, I read (non-work stuff), I watch movies, I daydream. I don't work. It's great. Makes me look forward to that 13 hour flight to Japan!
I found that pretty inspirational. Lubin goes on to say, "Sure, I lose some productivity on airplanes, but getting rid of all the pre-flight dread more than makes up for it."
I'm not sure I have pre-flight dread, but I do get a little caught up in making sure I have everything with me to get done what I feel I need to do. If I let go of that and just pull out my Kindle and enjoy a book, my trip might become less stressful and more enjoyable. I'll have my iPad, so I can take some notes if I'm inspired. And on this particular trip, I have a four-hour layover, so perhaps I'll consider doing some work then. Or not.
I think the notion of having an "I don't work on airplanes" mentality fits right into my "Let it be easy" mindset.
What about you? Do you work on airplanes or take it easy?
Photo by Julian Eilert via Flickr.
Tagged with: productivity, travel, worth repeating