Everyday Mindfulness review + giveaway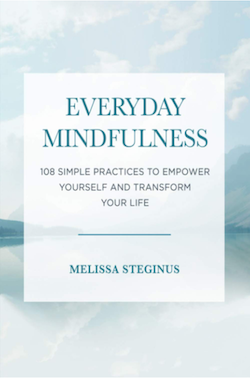 A couple of months ago, my husband, Barry, surprised me by suggesting I take a course on mindfulness. At the time, we were discussing my propensity to stumble and sometimes fall when I was walking our dog, Bix. (We have loads of uneven sidewalks in our historic neighborhood.) He said that when I'm out on a walk I'm too much in my head and not watching where I put my feet. He wasn't wrong.
That very day, I received an email offering me a review copy of the book, Everyday Mindfulness. I took it as a sign and eagerly accepted the review copy. The publisher also offered up a copy for a giveaway to a reader of this blog (see below). This book, by Melissa Steginus, offers "108 simple practices to empower yourself and transform your life." It's meant to be read over 108 days with an essay and exercises for each day. Each exercise takes only five minutes or so.
The book is divided into six chapters: (1) Physical; (2) Emotional; (3) Rational; (4) Spiritual; (5) Occupation; and (6) Network.
I went through the first 48 days before I felt like I'd read enough to write this review. I found the book patient and gentle, which of course I love. In some cases, it made me realize that I have some solid practices in place already. In other cases, it introduced me to some ideas that were insightful and helpful. While the108 days fall under an umbrella of mindfulness, I think, the book has an emphasis self care, one of my favorite topics. Though I haven't yet finished all 108 days (60 to go!) the book has been beneficial and a little eye opening for me.
Giveaway!
I'd love to provide you a free copy! The publisher, TCKPublishing.com is offering one print version to a US reader and one electronic version to an international reader. While I ordinarily read books on my Kindle, I was glad to have a hard copy of this book, because I wrote my responses to the exercises right in the book. (But I could have almost as easily used a journal.)
To enter, just leave a comment to this post by midnight central time on Friday, February 19. In your comment, please indicate where you live so I know which giveaway to enter you in.
ETA: The giveaway has closed. Congratulations to the winners, Dee and Jody!
Tagged with: books, giveaway, mindfulness, reviews, self-care, self care, self knowledge