A very long (but exciting!) trip
I'm kind of nerdily excited because I'm writing (and will be posting) this blog post while on an airplane. In the air. My American Airlines flight to Los Angeles has WiFi. I wish I could say it was free, but they did give us a coupon for 25 percent off, so it's only $6 to use WiFi for the duration of the flight.
Since I ran out of time to write a blog post before leaving on this trip, I'm grateful for the opportunity to do it now. I'm not sure why it's such a thrill to surf the internet while flying. I'm sure it will be commonplace before long.
This is the first leg of my trip to Brisbane, Australia. From LA I fly to Sydney, then connect to Brisbane. I get there at 9:30 on Saturday morning. (I left St. Louis at 5 p.m. today, Thursday.) That's about 25 hours of travel time.
As I always do on long flights, I fretted over what to bring on the flight to keep me occupied. The challenge is not packing so much that's it's uncomfortable to lug my carry-on. I see this time to myself as something of an opportunity I don't want to squander. I have some brainstorming I'd like to do for my business and also some planning. This trip seems like a good time to do that. Maybe I'll do it at LAX (I should have about three hours there). Along with a pad and pen, I also brought my iPod Touch, a hardcover book, and Oprah's magazine. What I didn't bring is my knitting needles, because they're prohibited by the Australia version of TSA, and since I have to switch planes (and terminals) in Sydney, I didn't want to risk having my knitting needles confiscated.
It's a crying shame, because I understand that on Qantas they have TV screens in the seatback in front of you and each person controls his or her content. I love knitting while watching TV. But it's not to be. Maybe I'll actually sleep on that overnight flight.
I'm so excited to see my brother, Larry; sister-in-law, Marg; niece, Miranda, nephew, Taylor; and their dog, Dakoda. I'm also extremely excited to attend the Australasian Association of Professional Organisers conference conference and to be one of the speakers.
I never dreamed that starting my organizing business four years ago would result in a trip to Australia (and, last year, a trip to Hawaii). My brother has lived in Brisbane for almost 20 years and this is my first visit there. This is one of so many reasons that I'm grateful that I started Peace of Mind Organizing. I'm met so many wonderful people (colleagues and clients). Life is such an adventure.
I'm going to try to update my blog regularly during this trip and share my experiences and impressions. I'll take lots of photos, and post some.
I don't have any pictures of Australia yet, of course, but I'm so excited about seeing my Australia family, that I'm compelled to post a picture of my niece, Miranda, and nephew, Taylor, taken last fall in Walla Walla (where my parents and other brother live). They were helping their uncle walk dogs at the shelter where he volunteers.
Aren't they cute?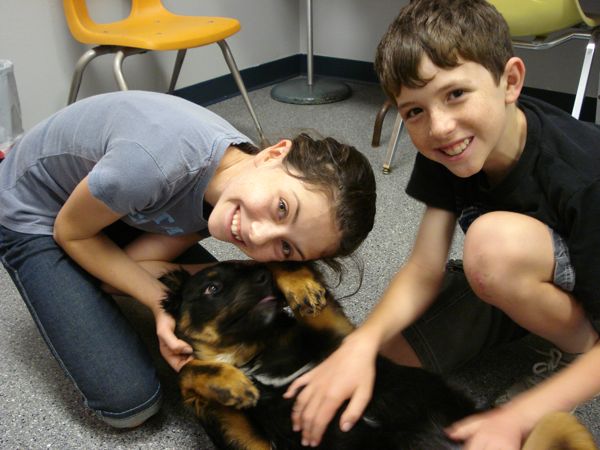 My niece and nephew cuddling a shelter dog last fall on a visit to Walla Walla.
Tagged with: aapo, australia, family, travel