Accessorizing my new car
I bought a 2008 Honda CR-V about a month ago. It replaces an older Honda Civic. I realized I need more room to carry around the supplies I use on my team jobs. (Incidentally, I bought it on Craiglist, and it was an excellent experience.)
I love my new car—it's a top-of-the-line EX-L so it has a posh feel about it. I'm most excited about the heated seats. I immediately started thinking about how I would organize it (I'm still tweaking that), which took me to Pinterest, of course.
I started a car-organizing Pinterest board and then suppressed my impulse to head straight out and buy organizing solutions. I realized I really needed to give it some time to figure out what my organizational challenges are with regard to my car before buying anything.
But there was one thing I knew I needed: A wastebasket. (The passenger front seat filled that role all too often in the Civic.) And I had the perfect solution right inside my house. Here it is, in the car: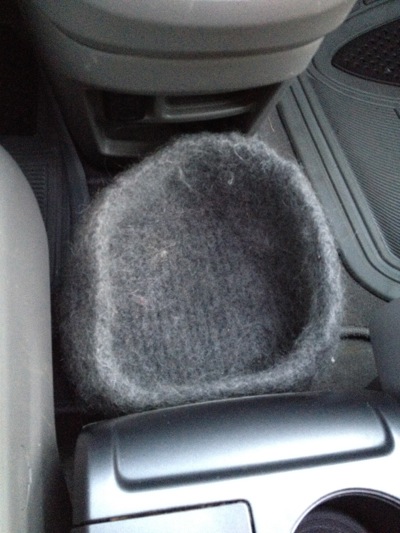 It's a felted basket I knitted a bazillion years ago. I knit it for the fun of it, without a real need for the finished object. My cat, Joe, liked sleeping on it, so it was usually squashed and covered in cat hair.
Now it has a place of honor in my car, between the center console in the dash. It fits the space perfectly and even blends in color-wise. Its wide-open top makes it easy for me to toss in a protein-bar wrapper when necessary and also makes it easy for me to see when it needs to be emptied.
I have to say: this makes me happy. Eventually, I'll be purchasing some supplies for organizing the cargo area of my little SUV. And when I do I'll post about it here.
Tagged with: car, knitting, organizing solutions