Apple AirPods: Worth the hefty price tag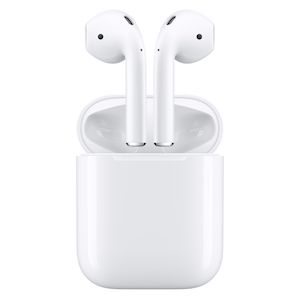 I resisted buying AirPods, Apple's wireless bluetooth headset, because of the $159 price tag. I also thought they looked a little weird. But I'd heard them recommended by The Mac Guys whose opinion I heartily respect and I was tired of catching the wire of my wired headset and accidentally pulling it out.
I bit the bullet in January and I haven't looked back. AirPods are truly convenient and (dare I say it?) worth the money. When not in use, the earpods—a separate one for the left and the right—reside in a little plastic charging case that looks to me like a package of Glide dental floss. You charge the case with a lightning cable but the case can charge the headset even when it's not plugged in. So far, I have not encountered any problems with the pods running out of juice, but apparently 15 minutes in the case gives you 3 hours of listening time.
Here's why I love my AirPods:
They're comfortable.
They stay in my ears.
They connect (and disconnect) automatically when I put them in (or take them out of) my ears.
They connect to my phone and to my computer (and I could connect them to my Apple Watch, if I put music on it).
The sound is great. (Full disclosure: I'm no audiophile.)
I don't have to have my phone on my person to use them (just nearby). Very helpful for folding laundry when I have no pockets.
No wires to tediously untangle before use.
No wires to get in the way and accidentally catch things on.
They're easy to charge and I can get up to five hours of listening time one charge.
Music pauses automatically when I take out the earbud out of my ear.
I can access Siri on my phone simply by double tapping the EarPods.
I have a little trouble keeping track of them (which was true with my wired headset as well) and I still need to find a good spot within my purse to store them. But otherwise they're just great.
Tagged with: airpods, apple, iphone, productivity technology