At last! I made a wearable garment!
When I picked up knitting again (after several decades) at the beginning of 2005, I was pretty fearless. Mostly out of ignorance, I think. I started out with a scarf, then a pretty terrific felted bag knit in the round. Then I made my first garment, The Einstein Coat, from Sally Melville's Knit book. As I've documented, that didn't turn out so well, and not too long ago I ripped it out.
Later that year I tried a drop-sleeve sweater and that looked like hell. So recently, I ripped that out—I'll use the yummy Debbie Bliss Cashmerino Superchunky for something else.
Burned by those two experiences, I've been working on non-garment projects, like scarves, bags, and, of course, the wonderful Barbara Walker's Learn-To-Knit Afghan.
Last year I saw a sweater vest I liked in the Boden USA catalog. I liked it so much I was willing to shell out $58 for it (on sale!) but they were sold out of my size. So I determined to make one.
I'm proud as punch to report that I finished the vest, it's not unlike the one I'd wanted to buy, and I can actually wear it without embarrassment.
Here it is: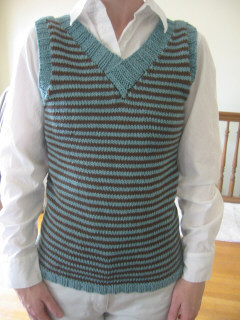 It's not perfect, but it's wearable!
I made it from this great free pattern on knitty.com. I used Lamb's Pride Cotton Fleece (80 percent cotton/20 percent wool) and US6 needles (US7 on the neck and bottom ribbing).
This vest has boosted my knitting confidence. Who knows, maybe I'll try a sweater again one of these days!
Tagged with: learn to knit afghan, sweater, vest