Building ease into a trip
I'm writing this from the Denver airport, on my way from St. Louis to Portland. When I booked this trip, I had a choice of a Denver-to-Portland flight that would mean a 2.75-hour layover or one with a one-hour layover. I purposely chose the longer layover so I wouldn't stress about missing my flight if my outbound flight were delayed.
Sure enough, my outbound flight was delayed for a half hour. The couple who happened to be sitting next to me on the flight to Denver were booked on the earlier flight to Portland and were worried about missing their flight. They were also incredulous that I'd booked the later flight.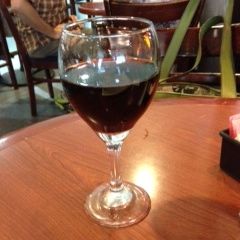 Wine, rather than stress
Sitting on that flight, I thought about how glad I was that I didn't have to worry about missing my flight or making a mad run for my plane. Instead, I enjoyed a fairly decent pizza and a fairly nice glass of wine in an airport restaurant. And now I'm sitting at the gate blogging.
The couple next to me rushed off the plane. (The flight attendant asked people to let those trying to make connecting flights get off first, though not everyone seemed to cooperate.) When I got off the plane, I noticed that the gate for the earlier Portland flight was just across the concourse from the gate we landed in. So I was glad to see that my row partners made their flight.
But you know what? I was also glad I'd booked the later flight. I'd rather have less stress and more waiting than stress and a big rush. Maybe that's just me. I also like to get to the airport early.
How about you? Would you have gone for the shorter or longer layover?
Tagged with: ease, planning, travel