Countdown to the Hamilton movie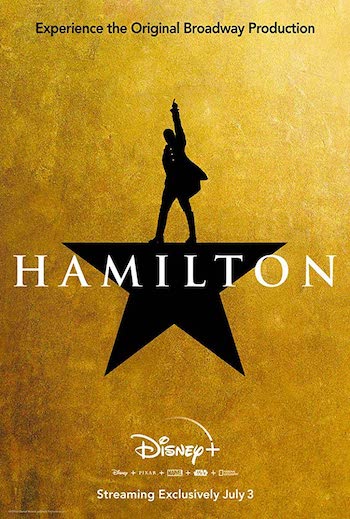 I've made no secret of the fact that I adore the Broadway show Hamilton (and its non-Broadway incarnations). I've seen it four times (three times in Chicago and once in St. Louis) and had a ticket for a May performance in St. Louis that was canceled. I was also planning to see it on our anniversary trip to New York in April. That trip, too, was canceled, thanks to the pandemic.
So you can imagine my glee when I learned that the Hamilton movie —a filmed version of the Broadway production with the original cast, shot two weeks before the original cast stopped performing—is being released for streaming on Disney+ on July 3, rather than in October 2021 in movie theaters as originally planned.
I'm already thinking about what I want to do to prepare in order to enhance my viewing pleasure. And I'm clearing my calendar for the day on July 3 with the intention of watching it many times.
Here's my plan, in case you're also a fan and might find it helpful:
I'm going to re-listen to The Hamilcast podcast episodes featuring The Cabinet (i.e. the creative geniuses behind the production, Lin-Manuel Miranda, who wrote the book, music and lyrics and stars in the original cast as Alexander Hamilton; director Thomas Kail, who also directed the movie; orchestrator Alex Lacamoire and choreographer Andy Blankenbuehler). That's been made easy with a special page linking to those episodes. I'd better get busy because there are 13 episodes in this collection.
I'll listen to the soundtrack many times between now and July 3 (but I'd do that anyway), as well as the Hamilton Mixtape.
I'm going to scour YouTube looking for interviews and performances I might have missed (or re-watching favorites). I just noticed this interview on

CBS

that had escaped my notice. And to whet my appetite, I'll rewatch these two award-show performances: Alexander Hamilton on the Grammys and Yorktown on the Tonys, both in 2016 .
If I have time, I might watch Fosse/Verdon on Hulu, the mini-series about Bob Fosse and Gwen Verdon. Tommy Kail directed five of the episodes and all four members of The Cabinet were involved. (I also love Cabaret and Chicago, so I'm sure to enjoy it.)
If you know of anything I should add to my list, please let me know in the comments. July 3 can't come soon enough!