Dresser transformation
One of the habits I've tried to create over the years is to put away my clothes properly at night (either in the closet/drawer or down the laundry chute), rather than piling them on the top of my dresser, as I'm inclined to do.
I've had various levels of success with this. I started to realize that part of the problem is that even when I clear off the dresser, it's not particularly clear. In other words, I store too much stuff on it. So even when it's supposedly cleared off, it feels clutter. And as you probably know, clutter attracts clutter.
So last week, I decided to take a hard look at what I store on the top of the dresser. And I was a little surprised at what I saw lurking there. Here's a before picture.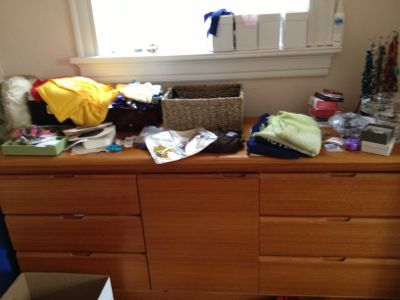 If you look closely, you can see there's an overabundance of (mostly failed) storage solutions for jewelry. There's also my basket of tights. There are a couple of shawls. And, the day the picture was taken, a couple of t-shirts I'd been given on a recent trip that hadn't found a home.
So I focused on clearing off that dresser. It may have taken me as much as an hour. I donated a quart-size bag full of jewelry I haven't worn in years. I removed two of the jewelry boxes. I found new homes for the shawls and for the new shirts. Since it's summer, I removed the tights basket to the downstairs closet where I store some out-of-season clothes. (I'll bring it back to the bureau top in the winter.) I put the stray buttons I'd found into my button jar. And I found and discarded old tags cut off of clothes.
Here's the after picture: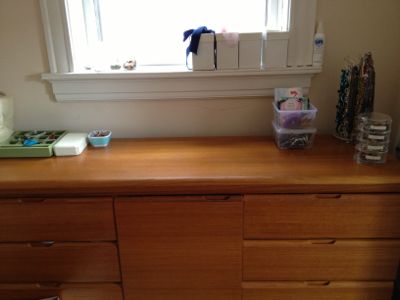 It's been a solid week and I've had no trouble keeping it clear. Because there's so much clear surface, I have no interest in adding anything!
This is inspiring all sorts of decluttering projects around the house. We just had the sliding doors removed from our clothes closet and replaced with curtains. Today's project: decluttering and organizing that closet. I'll report back here on the blog!
Tagged with: clean bureau, declutter, decluttering