Favorite storage features of my new kitchen
This is the third and last post in a series about the kitchen renovation we did this spring. (Click here for the other two posts.)
Today I want to highlight a few of the storage features of my new kitchen that make me smile. Nothing earth-shatteringly innovative here, just really nice conveniences.
Two-tier cutlery drawer
I love how one drawer is now doing the work of two, thanks to the innovative two-tier cutlery drawer.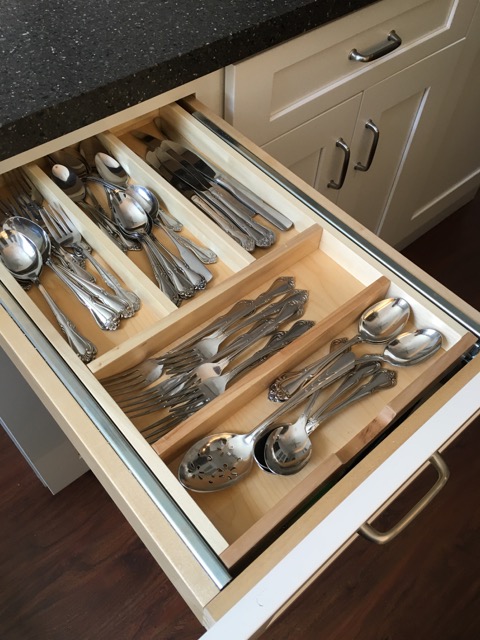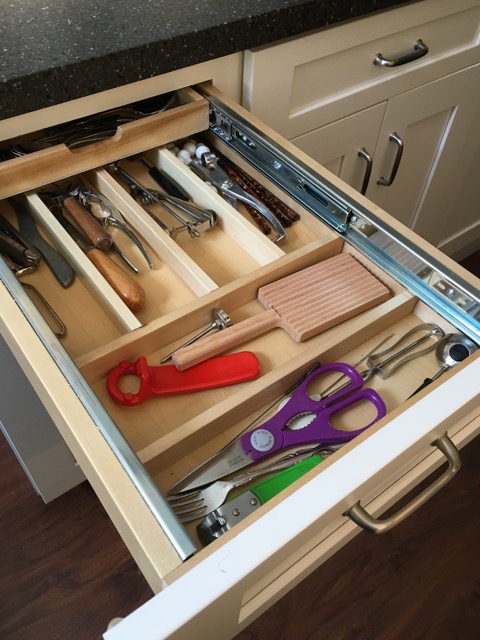 Simple pot lid holder
Two simple maple racks from the Container Store are holding my pot lids upright next to the pots. It's working out so well and making me crazy happy.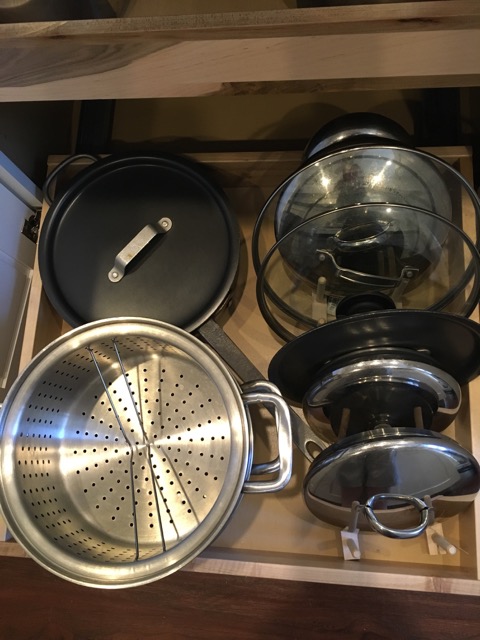 My coffee filter drawer
I take a coffee filter out of this acrylic drawer every day and every day it makes me smile. I love that I found a sturdy drawer that's exactly the right size I need for my filters. And that I can place the scale I use to weigh my coffee (I'm weird that way) right on top of it. It's so much better than the flimsy coffee-filter box I used to use.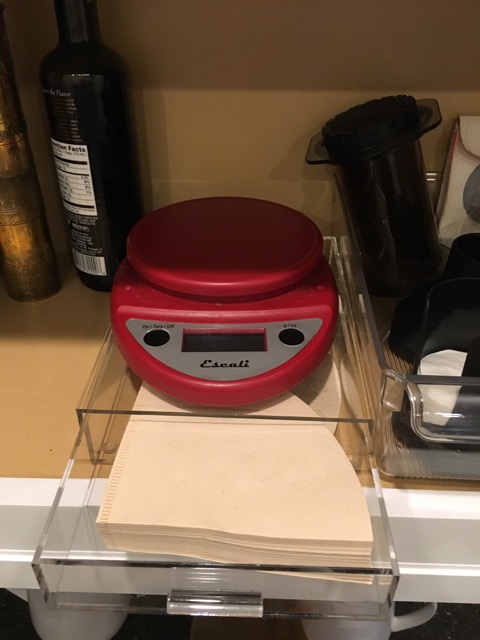 Our barware cupboard
We used to store our barware on the top shelf of the built-in cabinet and I would have to get out a stepstool if the glass I wanted wasn't right in the very front. A lot of the barware was stored in the basement. Now we have a whole beautiful cabinet that can hold an ample supply of barware. And I love the way it looks. Another happy-making thing.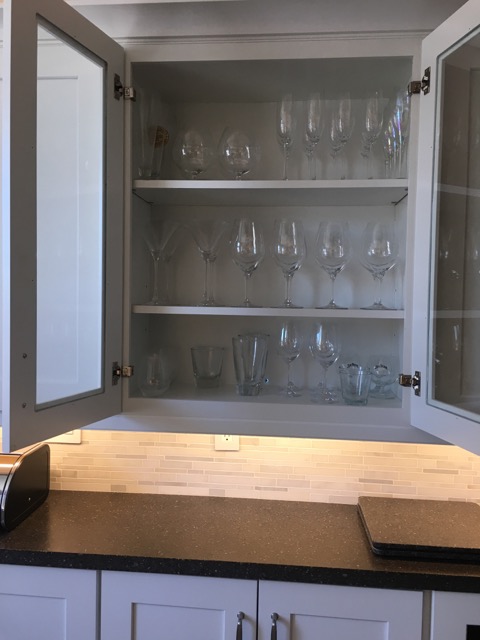 A corner cupboard Lazy Susan that actually works
I've seen lots of poorly functioning Lazy Susans in corner cabinets in clients' kitchens. Ours is working really nicely. One of the things it has going for it is there's no center pole, so I can use the whole surface. We store frequently used items like mixing bowls and colanders there and it's conveniently close to the dishwasher. We also store food-storage containers there which, alas, means that I'm storing them nested rather than with lids on. But it's working out really well. _(ETA: I've since learned that this type of Lazy Susan is called a Super Susan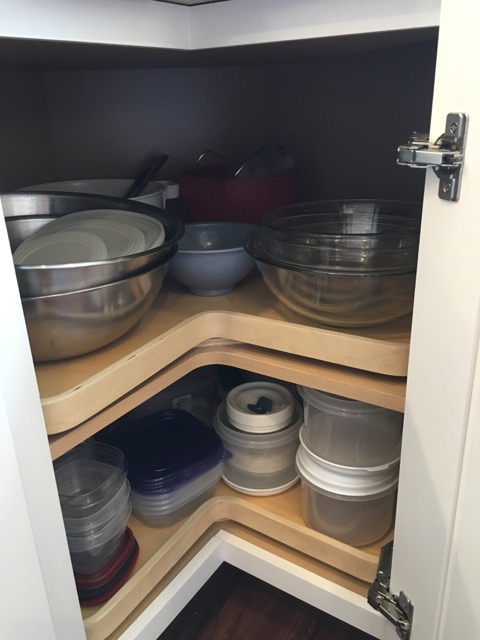 A hideaway spot for my purse
In our old kitchen, I stored my purse on the top shelf of a freestanding cookbook bookcase. That space tended to get quite unruly. Now I use the angled cupboard at the entry to the kitchen from the house. It's an odd-shaped space so I wasn't sure how I would use it. I slide my purse in the bottom shelf; we store extra dog food in the top shelf. (We pour the dog food into large Montana glass canisters that we scoop out of. The canisters live in the built-in cabinet, along with treats.)
Here's a wide shot of the cupboard: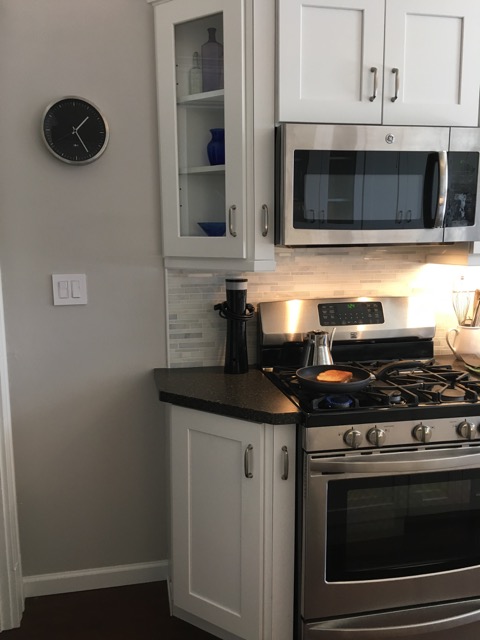 And here's a closeup of how nicely the shape works for my purse: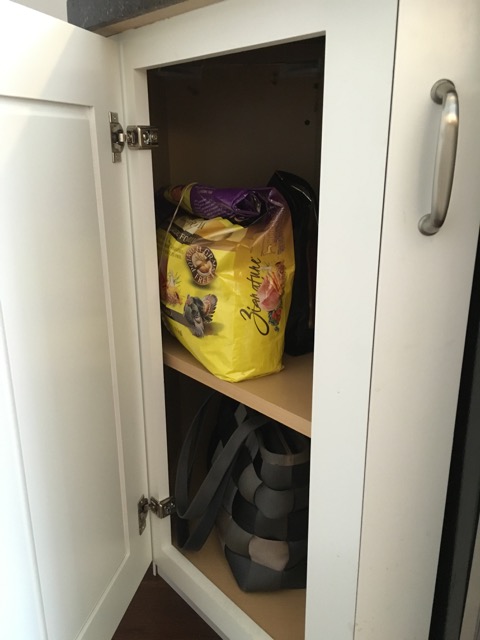 Our pull-out spice racks
Because of the angled countertop, a 3-inch filler was necessary to the left of the range and microwave. We didn't want to waste space, so we had pull-out spice racks installed there. (You can see them closed in the picture above.) It's turned out to be very convenient and it's awfully nice to have a dedicated space for spices that's not in the way of other things. Another benefit is that it's really easy to read the spice labels!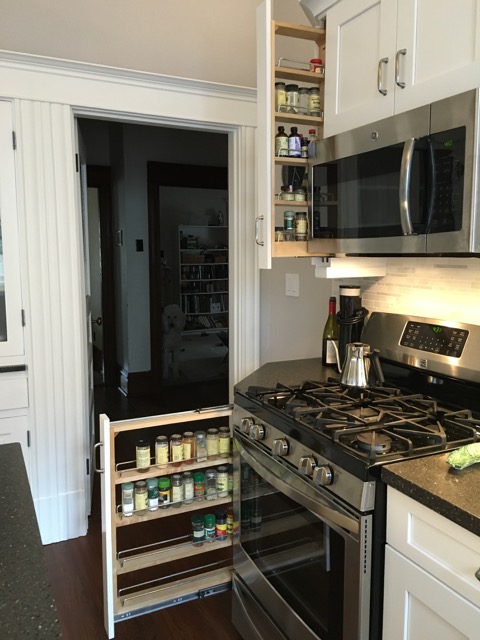 Those are just a few of my favorite things about my new kitchen. It really is a joy.
Tagged with: kitchen, kitchen organization, kitchen renovation 2016