Hands Free Tote: A review + giveaway
From time to time I receive emails from manufacturers of products that might interest my readers. They typically offer to send me a product sample, hoping I'll review it. I don't promise a review, but I often say yes and offer to give feedback on the product, which is mine to keep. When I really like a product, I'll review it and do a giveaway.
Today, I want to write about one of those products! It's the Hands Free™ Tote, from United Solutions. When I unpacked the tote, which resembles a large, rectangular, high-sided laundry basket with a strap, I had a hard time imagining I would find it useful. I was wrong.
Here's a photo of the tote (courtesy of United Solutions):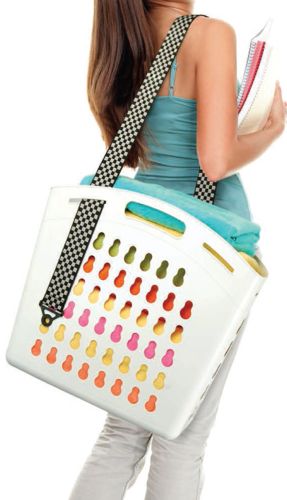 It's sturdy, but light weight. (It supposed to hold up to 25 pounds.) The strap is long enough for me to comfortably wear it across my chest, so what I'm carrying can rest behind my shoulder, leaving my hands completely free to carry other stuff. (It's kind of like having a third hand!) It looks a little awkward, but I find it's really functional.
Here are the ways I use it so far:
I live in an old house in an urban neighborhood and our recycling dumpster is about four or five houses down the alley. The Hands Free Tote allows me to carry more to the recycling bin at a time, thereby reducing the number of trips I take.
My small garage is not attached to my house. I walk across the back yard to get to it. The Hands Free Tote makes schlepping organizing supplies I use for client appointment to and from the house much easier. (There's not room to store that stuff in the garage.)
Here are some ways I could imagine using it in the future (or others using it):
The Hands Free Tote would make a great container for the Relocate to Another Room category during a decluttering session. Once you've finished your decluttering session, just carry around the tote to the various rooms of your house and put those items away.
Guests coming? Use the Hands Free Tote for quick clean up. Put it over your shoulder and deposit items in it that need to be taken to other rooms. In a pinch, you could temporarily store those items in the tote until you have time to put them away. (I really don't advocate the "stash and dash" approach to clutter control, though.)
if you have a baby or a toddler, the Hands Free Tote would presumably allow you to easily carry relatively large quantities of stuff from one room to another with a baby on your hip. (I know from clients that that can be a challenge.)
United Solutions partnered with popular gardening personality P. Allen Smith to promote the Hands Free Tote. Here's a video from his YouTube channel that shows the tote in action.
Here's the fun part—the giveaway! United Solutions has offered to send one of my readers their own Hands Free Tote. To enter, post a comment below about how you would use the Hands Free Tote. After you've entered with a comment, you may get additional entries by tweeting about the giveaway (be sure and use @janinea in the tweet, so that I see it) and/or writing on the wall or commenting at the Peace of Mind Organizing Facebook page. The contest ends at 11 pm, central time, on Thursday, September 11. I'll announce the winner on Friday, September 12.
The giveaway is now over. Congratulations to Amy for winning!
Tagged with: giveaway, hands free tote, organizing products, united solutions