Happy birthday to my genealogy blog!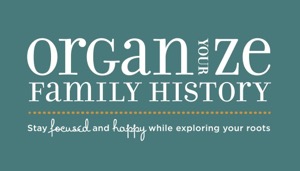 Today marks the sixth blogiversary of my genealogy blog, Organize Your Family History. I started the blog on June 14, 2012 as a way to marry my love of organizing with my passion for genealogy. By then, I'd been blogging here for six years so I knew the joys of blogging and I knew I had it in me.
It's turned into a really fun adventure. I've grown so much as a genealogist in that time. (I blogged about that today, in fact.) The blog has brought me lots of opportunities to speak and to write and to work with Family Tree University hosting a couple of workshops.
If you have an interest in genealogy, I urge you to check it out. While the focus is on organizing, I talk a lot about research techniques and resources as well. If you want to take it to the next level, I offer a few Orderly Roots Guides (downloadable pdfs) and I also offer genealogy organizing services.
Genealogy research brings me so much, like the thrill of the hunt, the joy of discovery, and connection with families. (Plus the opportunity to meet newly discovered family members!) It's no wonder it's one of the most popular hobbies in the country.
I'm proud of Organize Your Family History and wanted to celebrate this milestone here. I hope you'll check it out!
Tagged with: genealogy, organize your family history