My adventure with Project 333
Maybe you've heard of Project 333 It's the brainchild of Courtney Carver of Be More with Less. She designed this challenge for herself in 2010 and encouraged her blog readers to follow suit. It swept the nation and is going strong. It dovetails nicely with the current interest in minimalism.
Essentially, Project 333 challenges participants to dress using only 33 items of clothing for 3 months. You can read the details at the link above, but here are the essentials.
What's included in the 33 items:
clothing
outerwear
jewelry
accessories
shoes
What's not included in the 33 items:
underwear
sleepwear
workout clothes/uniforms
sentimental jewelry you wear every day (like your wedding ring)
You choose the 33 items you'll wear for that season, then pack everything else up and store it. Courtney does not ask you to discard everything else, just pack it away. (Of course, you can discard items that don't fit or you don't love.)
Courtney Carver came to St. Louis in June as part of her Tiny Wardrobe Tour. I attended her talk and was inspired to give Project 333 a try. While I was listening to Courtney's talk I decided that the workout clothes I wear when I lead organizing teams would not count in my 33 items, nor would the shorts and t-shirts I wear on my daily dog walks. (This was based on the answers I heard to the questions the audience asked.)
Sunday, July 3, was the big day. First, I jotted down the trips I was taking and the events I was planning to attend in the coming three months, so I could plan my wardrobe accordingly. Then I took a hard look at my hanging and folded clothes.
I brought some bins into the bedroom and started binning up the items that didn't make the cut. I had already pared down my wardrobe over the last few years, but I still had plenty to store. In all, I ended up taking four 66 quart bins to the basement. One was for the items I thought I'd want to pull out first when the three months was over and it was time to select my fall collection of 33. The second bin was for clothes that came out of the closet and the third for clothes that came out of the dresser. (Minus the ones that went into the first bin of course.) The fourth bin was for shoes and accessories.
Selecting the 33 items wasn't all that hard. The truth is that I wear the same things most of the time anyway. The whole process was definitely made easier by the fact that I didn't have to choose to keep or discard clothing. It was just about a short-term commitment not to wear certain items.
Here's what I ended up with in the main part of my closet:
2 pairs of dress pants
2 pairs of jeans (blue and white)
2 jackets
1 cardigan
5 long-sleeved blouses/shirts
6 short-sleeved shirts
1 tank
2 dresses (not pictured)
2 ponchos
1 shawl
1 down vest (for late September, just in case)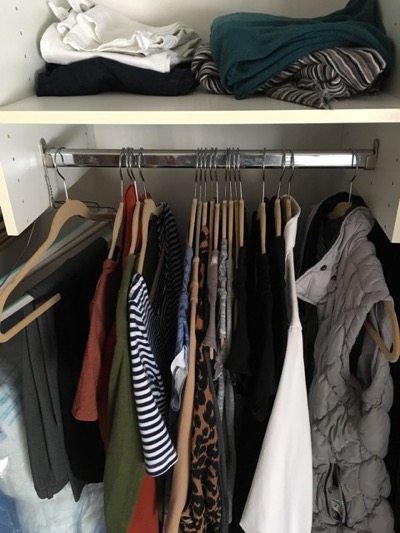 I selected three pairs of shoes: sneakers, sandals and dress shoes.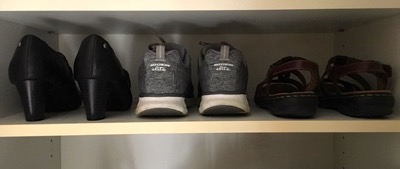 In addition, I selected three favorite pairs of earrings and one necklace: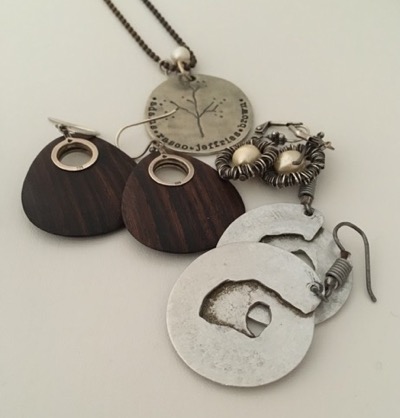 And I included my favorite animal print scarf and black belt with faux tortoise buckle.
It's been a month now, which has given me time to reflect on the benefits and pitfalls of the experiment. Overall, it's made life much easier. Here's how:
It takes me no time at all to figure out what I'm going to wear.
It's really easy to find and put away clothes.
I don't worry about whether or not someone has seen me in the outfit because they probably have.
I don't have to give any advance thought to what I might wear. (And I can think about more important things!)
I can do all my laundry in one load.
The down side? I'm starting to get a little sick of my options. And I worry a teeny tiny bit that an occasion will come up for which I don't have something appropriate to wear. I'll let you know at the end of September whether that happened.
By the time this three-month period is up, I will have gone to one conference and taken four other trips. I will have had first appointments with probably 20 clients. (Those first-appointment clothes come from the 33-item collection.) And, of course, I will have gone to social events. I'll do all that wearing only things from my tiny wardrobe!
It'll be interesting to see how the selection process goes when it's time to pick out the 33 items for the fall/winter season. I suspect I'll be anxious to make the switch.
This has been a fun experiment. Have you tried it?
Tagged with: closets, minimalism, project 333, wardrobe