My Apple Watch: Lovable, if not indispensable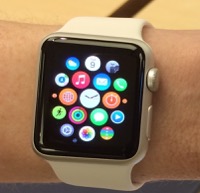 I wrote last April about my excitement over buying an Apple Watch (and how I navigated the choices available). I ordered it online and the day it was set to arrive I was like a kid on Christmas morning. I devoted some time that day to setting it up just right. I loved it.
Soon, the excitement wore off and I was able to give it a more objective evaluation. People constantly ask me how I like it and my response for the last several months has been, "I like it, but it's not indispensable. My phone is indispensable, but I could live without my watch."
Yesterday, I put that to the test because I decided to upgrade my watch to the new OS2. It has to be on the charger for that to happen. A normal installation should take under an hour, but there was a problem with mine and I ended up keeping it attached to its charger (which means it couldn't be on my wrist) for 24 hours before I caved in and called Apple. Turns out, my installation was problematic and required powering the watch off, then on, and starting over. It's fine now. (Note to self: Next time, call Apple sooner. They were great.)
Going 24 hours without my watch strapped to my wrist made me realize that I really do use it a lot. It serves as a handy extension to my beloved iPhone. Here's how I use it most:
To tell time (Imagine, a clock on my wrist!)
To easily set a timer (I use a timer many times a day)
To tell at a glance who is calling me
To easily turn the ringer off if I don't want to talk to a caller
To read and swiftly reply to text messages
To turn the music on my phone on and off
To tell me when I need to turn when the Maps app is running on my phone (it buzzes my wrist and, if the sound is on, makes a tick-tick turn signal sound)
To monitor my exercise
To get me to stand up when I'm working long hours at my desk
To see the outside temperature at a glance
To see the next appointment on my calendar at a glance
The Apple Watch has to be charged every night and I've developed an easy routine of doing that. With the new OS2, I'll be able to use it on its side on my nightstand to tell me the time and as a snooze-able alarm clock, so that will be nice. The band is much easier to take on and off than my previous FitBit and MisFit fitness bands and I find the watch very comfortable.
So the bottom line is that I'm very fond of my Apple Watch and I'm glad I bought it. Would I replace it immediately if I lost it or it died? Probably. But I wouldn't go into the same panic I felt last year when my iPhone died.
Tagged with: apple, apple watch, iphone, technology