Ode to a swift
There are certain essential pieces of equipment you need when you're a knitter. You need yarn, obviously. And you need knitting needles. (The longer you're a knitter, the more amazing your array of needles). You'll also need a few notions like stitch markers, tapestry needles, perhaps a stitch holder or a cable needle. All these things, though they add up, don't cost much individually.
For me, there was a bigger-ticket item I wanted, one that felt decadent because it was so much a matter of convenience, not necessity.
I wanted my own swift and ball winder. If you're not a knitter, you have no reason to know what those things are or why you'd use them. I'll explain. When you buy yarn, it's often already wound into ready-to-use ball. But sometimes the yarn you want will come in a skein, a loosely coiled length of yarn that you can't knit from. Skeins are usually twisted into an easy-to-display hank like this: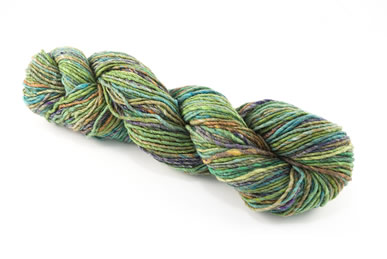 A skein of Noro Cashmere Island yarn
Untwist the skein and you have a loop of yarn sometimes yards wide. You need to wind it into a ball:

A ball of Cashmere Island yarn (in a different colorway)
The old-fashioned way to do it (you may have seen your grandmother or mother do this—I know I did), is to have a helper hold his or her hands a few feet apart with the skein looped over them. Then you wind, by hand, the yarn into a ball. That requires an assistant (though you can use a chair back, or your own feet instead) and the hand-wound ball isn't very neat. Or at least it never was when I tried to do it. Another alternative is to have the store where you bought the yarn do the winding for you. But that's time consuming and sometimes I would forget to ask.
A swfit and ball winder automates the process. And I now own one. In fact, I used it to create the ball of yarn pictured above. Now I don't have just any swift. I have a new-fangled vertical squirrel-cage swift. Here it is: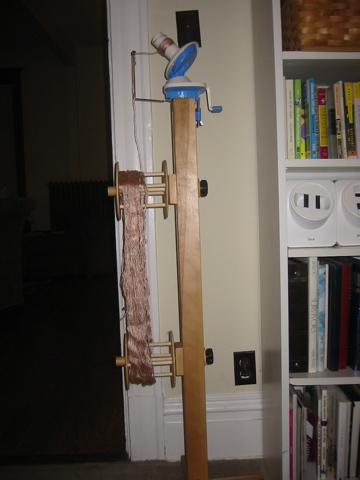 My squirrel-cage swift and ball winder
As you can see, you loop the skein over the little barrels that resemble hamster wheels. They're adjustable, so you can get just the right tension (skeins of yarn are of variable widths). Then you thread the yarn onto the ball winder, which rests on top of the swift, and wind away.
One thing I love about this particular type of swift is that I don't have to put it away and set it up. The more traditional umbrella swift clamps onto a table, as does the ball winder, and has to be put away (unless you have a dedicated table for it). My swift is tucked into the corner of the room in which I store my yarn and is ready to use at all times.
My husband gave this swift to me for my birthday. It's handmade and he got it here. (It's the "Alternate Vertical Swift.") I'd be lying if I said I didn't guide him toward that decision and this style of swift. It's nicely made and makes my knitting life just a little bit easier—and it saves time. I'm one lucky knitter!
ETA in 2018: Please read the comments below. While I loved the swift when I got it, it's proven to be problematic over the years. Ten years later, it is pretty much unusable, except as a place to mount the ball winder.
Tagged with: ball winder, knitting, skein, swift