One dress, one hundred days
Last week my friend and podcast co-host, Shannon Wilkinson told me about Wool& and their 100-day challenge. Wool& sells simple wool-blend dresses and they have challenged customers to wear one of their dresses for 100 days in a row. After 100 straight days of (photo-documented) dress wearing, you receive a $100 gift card for another dress. (You can read more about the challenge here.)
When Shannon told me about this, I got really excited. I love limiting my choices and really enjoyed the Project 333 challenge I undertook a few years back, where I kept only 33 garments in my closet for three months. But that had fallen by the wayside and I found getting dressed during this pandemic to be, to say the least, uninspiring.
So I ordered the Rowena swing dress from Wool&, in black. I was thrilled when it arrived a few days later, because it's as comfortable as I hoped it would be.
Then I went through my closet and removed everything that I couldn't wear with the Rowena dress, though I did keep a few things out in case I became desperate to wear something else. Everything else went into bins in the basement. And I also went through the basement bins (there are three of them, established during my Project 333 time), and pulled out a few things that go with the dress.
Here's what my closet looks like now.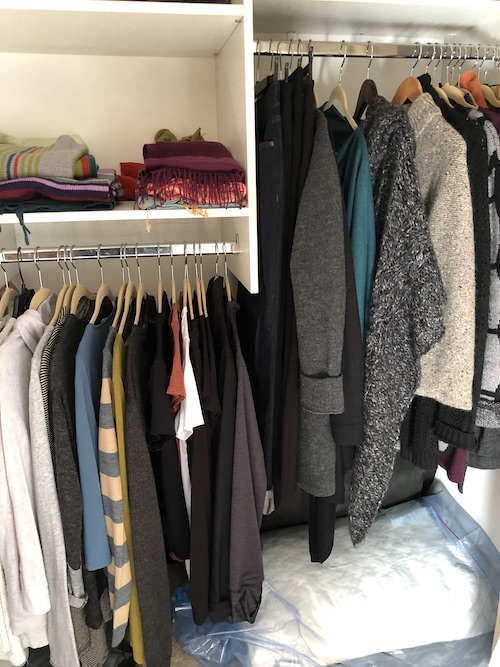 So now I get to play with ponchos and scarves and feel a little creative without having to give it too much thought. Today is Day 4 and I am loving it! I will also be creative in wearing sweaters and shirts over the dress so it looks like a skirt.
I'm taking pictures every day, just in case I end up wearing it for 100 days and need proof. Here are a couple of photos to show what it looks like on me and how I'm wearing it. I promise not to bore you with 100 photos!
Day One, with burgundy cashmere/wool shawl and leggings: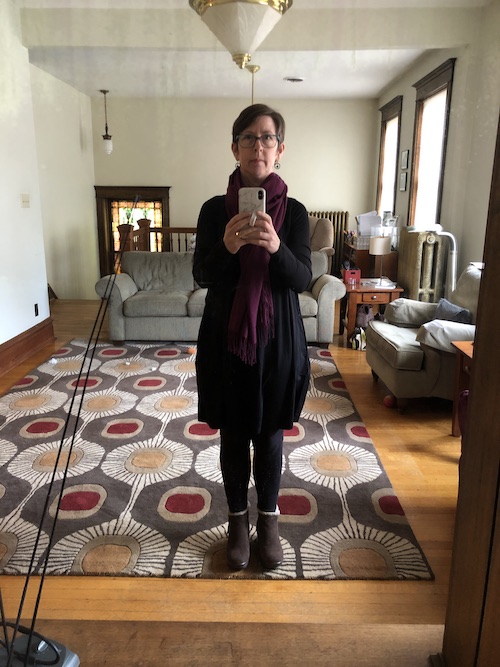 Day One
Day Four, with a short, brown sleeved poncho, my hand-knit cowl and fleece-lined leggings: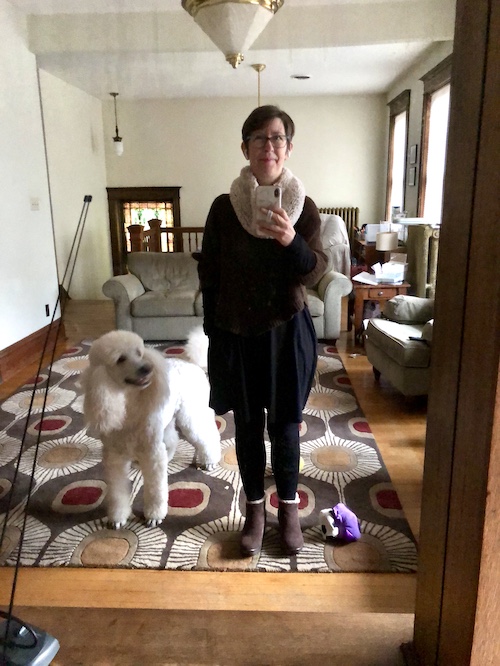 Day Four
It seems a little ironic that I'm going to be getting away from the monotony of pandemic dressing by wearing the same dress every day. But I think that's how it will work out. It's so nice to feel excited about getting dressed again!
Tagged with: 100 day challenge, closets, minimalism, simplicity, wardrobe, wool&