Personal Kanban for task management
For several years I've been using the various task management techniques created by Mark Forster. The most recent has been DWM. But life and work got sort of crazy and I spent a few weeks doing nothing but putting out fires. I ignored my task list in my DWM planner. These task lists are calendar based, so I needed to figure out how best to get back in the saddle.
A week ago, I went to the discussion forum on MarkForster's website to see if I could figure out the best way to rejuvenate my list. In this thread and I stumbled upon the concept of personal kanban. I didn't do a lot of research into it before jumping in, but I gather that kanban was originally designed to help teams of software developers. Then someone adapted it to work personal task/life management.
There are two overriding principles in personal kanban, both of which appeal to me.
Visualize your work
Limit your work in progress
The photo of a personal kanban board that I saw on Personal Kanban 101 was immensely appealing. It was a white board, divided into thirds with the headings Backlog, Doing, and Done. In each section were sticky notes. I had to try it.
I spent about 15 minutes setting up the system. I dusted off a white board I'd been storing in a basement, pulled out my Super Sticky Post-It Notes and combed through my DWM task diary to create my Backlog. I limited the number of tasks I could be working on at any one time to 5 (the maximum recommended number) and put them in the Doing column. Then I got to work. When I'd finish a task, I'd move it to Done.
I colored coded my sticky notes into three categories. Green notes for an e-course I'm working on (my major focus at the moment), blue notes for tasks related to my various volunteer activities and orange notes for everything else. I also created a horizontal category at the bottom for daily activities (exercise, getting my email down to 15 messages, etc.).
I had three work days at my desk last week and I found my personal kanban board to be really effective. I plowed through the tasks and enjoyed moving them through the process.
This weekend, I treated Saturday as a workday. (But boy did I take Sunday off.) Here's a photo of my personal kanban board at the beginning of the day: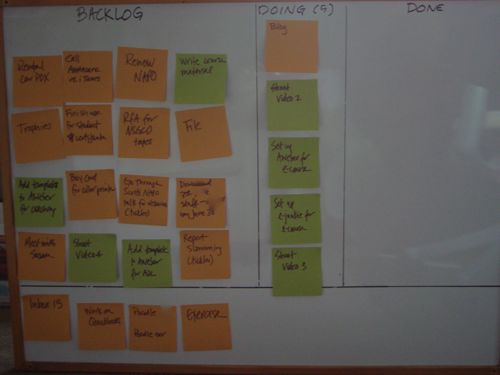 My personal kanban in the morning.
And here's how it looked at 7 p.m.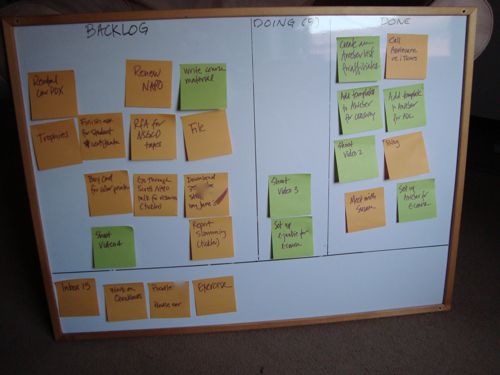 Here's my board at the end of the day.
(I wrote this blog post on Saturday but decided to wait until today to post it.)
I love the low-tech nature of the white board and sticky notes. But, of course, there's software you can download to help you do the same thing on your computer. Leankit Kanban is just one example.
I love how the personal kanban board is. And tactile. I also love that it keeps me focused and keeps me from feeling overwhelmed.
I'm going to stick with this for another week or two and see how it ends up working out. I'll report back!
Tagged with: mark forster, personal kanban, productivity, task management, time management