Review of the Epson FastFoto FF-680W photo scanner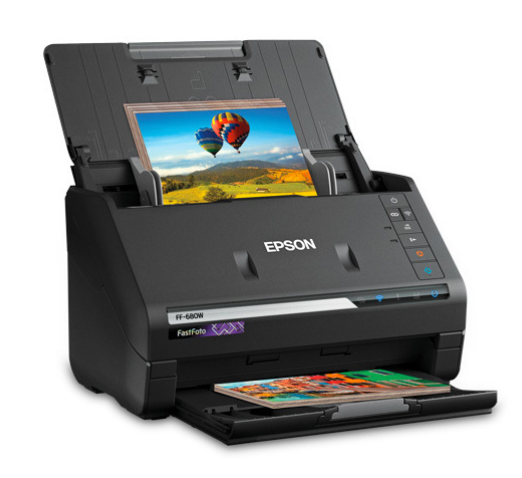 As I mentioned in a post earlier this week, I've been organizing and scanning my photos from the 80s and 90s, primarily. The project was prompted by the discovery of a cache of photos in a closet and given a little urgency by the offer of a loan of an Epson FastFoto FF-680W photo scanner in exchange for a review.
I've now scanned hundreds of photos with this handy little scanner. It's a sheet-fed scanner (like a fax machine), so it handles prints only. The photos I was scanning were relatively new and were not fragile, so I had no hesitation to put them in the sheet feeder. Based on my experience, though, I think I'd be comfortable putting old photos in the sheet feeder, as long as they weren't crumbly or torn. The scanner does come with a carrier sheet for more delicate photos, though I didn't try it.
The scanner has software that allows for easy organization of the digital photos, assuming you've already taken the time to organize the prints. As I explained in my previous post, I went through my photos and grouped them into categories that made sense to me. The software is set up so that you can assign a year (or a decade), a month (or a season), and a description to each batch. The description becomes the folder name and the year, month and description, followed by a number become the file names for each photo in the batch, which are numbered sequentially.
Here's a photo of the screen where you make those selections: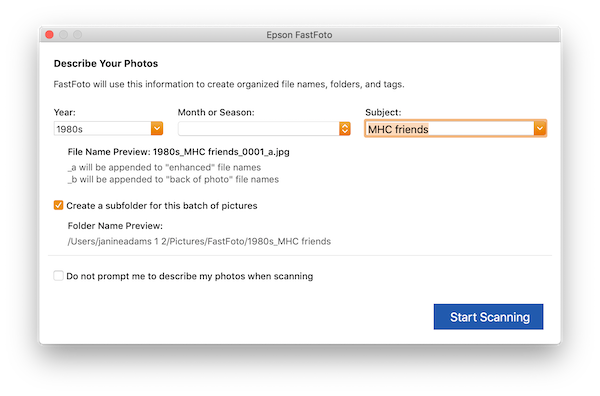 It's quite simple. If you finish a batch and later find photos that belong in that folder, it's easy to just make the same selections and they'll be added to the folder.
Once I got past the idea that I needed to name every photo (again, see my previous blog post), the process went quickly. The scanner is well named. It's really fast!
Here's a 20-second video I took of the scanning, start to finish, of a batch of 32 pictures. It's really that easy and fast. I scanned at 300 dpi (the fastest setting) but I could have scanned at 600 or even 1200 dpi in JPEG or TIFF formats. I was impressed with the number of options available.
I was scanning old snapshots at 300 dpi, so it's a bit hard to evaluate the quality of the scanned photos. I did use the auto enhancement setting so that I would get a duplicate, enhanced version of any photos that started out sub-standard. These photos were color corrected and red eye was eliminated. Pretty cool.
I choose to store my photos on my hard drive, but the software allows you to upload your photos to Dropbox or Google drive with a click. There's also a sharing button for easy sharing via Facebook or email. I chose to store the folders in my folder structure on my Mac, but there is an option for saving it to the Photos app.
At $529, this isn't a scanner for the casual or infrequent user. But if you have a lot of photos to scan, it might be something to consider. It's fast, easy to use and virtually trouble free.
The Epson FastFoto scanner made a project I'd been putting off really easy. I had no trouble organizing my prints—I broke that project into little pieces and really enjoyed looking at a the photos—but I had really dragged my feet doing the scanning. That's a shame, because it turned out to be a breeze!
Tagged with: photographs, photo organizing, reviews, scanning