Shifting priorities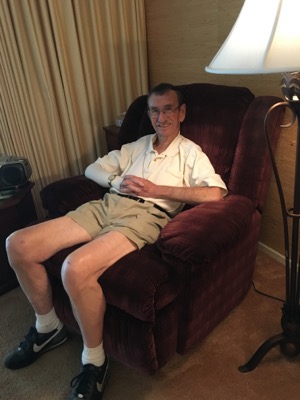 My dad comfortable back at home.
In July, I scheduled a one-week trip that had me in Portland, Oregon, for the wedding of dear friends, followed by five days in Walla Walla, Washington (a 4.5-hour drive from Portland) visiting my father.
Things didn't go quite as planned. I had a marvelous time at the wedding on Saturday and headed to Walla Walla on Sunday as scheduled. But I discovered on the way that my father had fallen in his condo, where he lives alone, and had been unable to get up for 16 hours. That's scary business for an 86-year-old. Fortunately, he was able to get up and get help and he was driven to the emergency room. I arrived at the ER about 30 minutes after he did.
Suddenly, the tenor of my trip changed. I quickly extended my day of departure from Friday to Monday. I spent five days hanging out with and advocating for my father at the hospital. On Thursday, the day before I was originally scheduled to leave, he was transferred to a skilled nursing facility for rehab. He did so well there that he stayed only a week. (The original estimate was one to two weeks.) When Monday came, the day of my rescheduled departure, it was very hard for me to envision leaving him without my assistance in handling his home safety visit and transitioning back into his home. I ended up extending my stay again, by a week.
Looking back, the decision seemed like a no brainer. Of course I should stay. But at the time, it was difficult. I had to reschedule about a half dozen client appointments (some of which involved rescheduling teams). I had to adjust my flights and figure out what to do with my rental car (the original plan had me driving the car back to Portland for my flight home), all while trying not to rack up a huge bill. I also was feeling bad about being away from home, where my husband, Barry, was doing all the care for our poodle, Bix, in blistering hot weather.
The minute I made the decision to stay and started changing plans, I felt relieved. Thankfully, I didn't take too big a hit financially and my clients and team members were, of course, understanding. And Barry was great about it.
I am so glad that I have the flexibility to make adjustments like these. Nothing else I could have done at that time was more important than helping my father stay safe, continue his remarkable recovery, and know how loved he is. At his age (and after a fall-related concussion) it was hard for him to understand everything the medical professionals were telling him, so I was glad I was there to explain things and ask questions on his behalf.
When I left Walla Walla after two weeks, I felt comfortable that my father was safe and could take care of himself. We were both overwhelmed and gratified by the show of concern and support from his many friends. So I'm feeling okay about being back in St. Louis.
Sometimes when life throws things at us, we have to make some tough decisions and shift our priorities. In this case, I'm really glad I followed my gut.
Oh, and by the way, even though my trip swelled from seven to 17 days, I still only wore half of the clothes I brought in my suitcase! Thankfully, I had easy access to laundry facilities.
Tagged with: family, flexibility, travel