Stop thinking about it: Do it!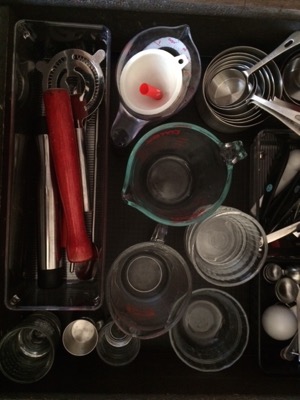 My newly lined drawer
Do you have little organizing projects around your house that are constantly taunting you? Do you walk through a room, see a pile and say to yourself, "I need to file." Then just keep walking?
I do that all the time. It's such a waste of mental energy when I could just do the task, rather than thinking about it. This really struck home this weekend. I had two little tasks (get my food storage containers in order and line a couple of kitchen drawers with non-skid drawer liner) that I have been telling myself to do for ages. I bought that drawer liner—and left it in plain sight!—a couple of months ago.
So yesterday, I promised myself I'd accomplish these two tasks. And do you know how long it took? Less than five minutes each. Seriously, the food-storage containers took a minute. A minute! And lining the drawers with this super easy Zip 'N'Fit liner took five minutes. And now my drawer dividers don't slide around. It's a great thing.
Take a look around your house. Are there little tasks that you keep meaning to get around to doing? Do one of them! Or set a timer and do one of them for just ten minutes then come back it later. (That's what I need to do with some filing.)
It's crazy how I let these tasks tweak my brain rather than just relieving my brain by accomplishing the task. I think my motto this week is going to be *Just Do It!&
Tagged with: decisions, empowerment, obstacles, procrastination, productivity