The tiny wardrobe continues!
On July 1, 2016 I decided to try out Courtney Carver's Project 333, an experiment in having a minimal wardrobe. I thought I'd do it for a year, but I think I'm hooked. Each quarter, I select 33 articles of clothing from which to dress for the next three months. The clothes I don't wear, but don't want to give away, reside in bins in my basement. I've blogged about my collection each time I've made the selection.
October 1 marked the start of my sixth quarter doing this. I've been traveling so I've been a little behind but today I finalized the collection. Because I've been doing it so long and I've proven to myself I can do it, I decided to cut myself some slack and give myself permission to have as many clothes as I wanted in this season's collection, rather than limit myself to 33.
I had a pleasant surprise. Even though I'd given myself permission to have as much as I wanted, when I chose the clothes for this collection, the number came to only 36.
Here's why: I have found that having fewer clothes in my closet makes my life so much better. Far from feeling limited, I feel liberated by having fewer choices to make when I get dressed. It gives me time for more important things in my life!
My collection includes clothes, shoes and accessories that I wear out of the house to client appointments (but not team organizing appointments, to which I wear work-out clothing) and social events and just going about life. It does not include dog-walking clothes, exercise clothes, pajamas or underwear. This quarter, I decided to exclude jewelry and coats from the count.
Here's what made the cut:
3 pairs of pants (including one pair of jeans)
3 pairs of leggings
7 dresses/tunics
6 sweaters
1 turtleneck
1 jacket
3 long-sleeved tops
3 short-sleeved tops
2 ponchos
1 shawl
2 scarves
3 pairs of boots (1 long, 1 short, another short pair I plan to purchase)
1 pair dress shoes
Here's a photo of the collection. I love how I can see everything in my closet and I don't have to think hard about what to wear. (I could probably put on a blindfold and pull out an outfit, since everything is coordinated.)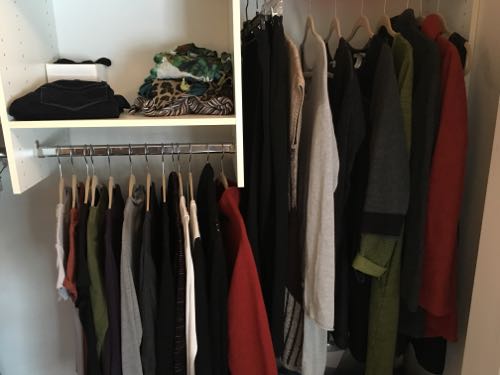 It feels ample and abundant to me and I'm very excited for cold weather to finally arrive so I can wear these clothes!
Tagged with: closets, minimalism, project 333, wardrobe