The value of joining a NAPO chapter
If you're a professional organizer, I hope you're lucky enough to live where there's a local chapter of the National Association of Professional Organizers. And if you do live near one, I hope you've joined it!
When I started Peace of Mind Organizing® in 2005, the first thing I did was join NAPO. The second thing would have been to join NAPO-St. Louis, except it didn't yet exist. Thanks to the hard work of others, the chapter was established in 2006 and I was lucky enough to be a founding board member.
Through the last ten years I've remained involved with the chapter, serving on the board for the first six years of its existence, then taking three years off before joining the board again for another two-year stint that ends in 2017. So clearly I'm invested in the chapter.
Here's a photo of the NAPO-St. Louis chapter members taken by Membership Director Sheila DeHart at the January 2016 meeting.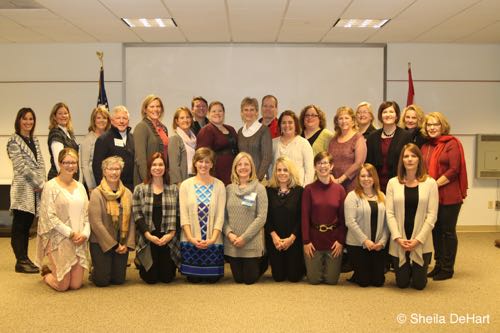 Why do I devote so much time and energy to the chapter? Because it gives so much back to me. Here are a few of the benefits of chapter membership:
Camaraderie. For new and veteran organizers alike, the opportunity to spend time with like-minded people sharing advice and experiences is invaluable.
Leadership experience. I'm pretty sure I wouldn't be as good at leading my organizing teams if I hadn't had the experience of being president of the chapter from 2008-2010. It helped form the kind of leader I've become.
Education.

NAPO

-St. Louis meets in person nine times a year and the chapter's programs are really valuable We uses both outside speakers and have programs presented by chapter members—there's an amazing wealth of knowledge among our membership! The chapter also makes conference recordings available to its members as a membership benefit. (I'm certain this is a common chapter benefit.)
Visibility. All chapter members are listed on the

NAPO

-St. Louis website, giving them another exposure to prospective clients.
Referrals. When chapter members receive inquiries from clients they might not be right for, they'll sometimes send them to me. And vice versa.
Client resources. We have 13 Corporate Associate Members of

NAPO

-St. Louis and I refer clients to them all the time. I can also look for resource recommendations from fellow members of the chapter on our online forum. The chapter makes me a better resource for my clients.
Business development. These days I focus my business on leading organizing teams. All my team members are

NAPO

-St. Louis members. I've made it a requirement, because I want to use independent contractors who have shown a dedication to their businesses by joining

NAPO

national and

NAPO

-St. Louis. I can assure my clients that all my team members abide by

NAPO

's Code of Ethics.
I honestly don't know where my business would be without NAPO-St. Louis, but I'm pretty sure it would not have grown like it has. If you're a PO or an aspiring PO I urge you to get involved with your chapter. It will reap huge dividends!
If you're a member of a NAPO chapter, please feel free to comment on what you get out of your chapter!
Tagged with: napo, napo st. louis, professional organizer