Time for a new Project 333 collection!
September 30 was the end my first Project 333 season. From July 3 to yesterday October 2, I chose from only 33 wardrobe items when getting dressed each day. In a nutshell, the 33-item collection included clothing, shoes, jewelry and accessories. It did not include underwear, sleepwear, loungewear, or exercise clothes. It also did not include dog-walking clothes. Please read my August 1 explanation of Project 333 for complete details.
Yesterday was the big day that I'd been looking forward to for a couple of weeks: I changed out my 33 items for another 33-item seasonal collection that will last me until the end of year.
I'll tell you about that in a second, but first I have a surprise to report: I did not wear all 33 items! That's right. At the end of the three months there were eight items I never wore (a dress, two jackets, three shirts, a belt and a down vest). And there were four more that I didn't wear until September 30 (a poncho, a shirt, a pair of shoes and pants). So basically I dressed from 21 items the whole quarter.
A giant caveat is that when I lead team organizing jobs, I wear exercise clothes, which were not included in the 33 items. Clothes worn on one-on-one organizing appointments, or appointments to give estimates, were included.
The experience has been really positive. Project 333 makes getting dressed so fast. It makes laundry easy. It also makes packing easy. I love being able to find anything in my closet or drawers very easily. And I absolutely love having fewer options because it makes my life easier.
So yesterday, I changed out my clothes to the new collection. All the clothes I selected came from the "Favorites" bin I'd created when I was binning up the clothes in July. That tells me that there are two more bins of clothes I could probably donate without suffering!
It took a little effort to whittle it down to 33—at the first pass I had about 40 items. But I managed to do it. Here's what's in the collection:
5 pairs of pants (including two pairs of jeans and one pair of leggings)
2 turtleneck sweaters
4 other sweaters
2 ponchos
1 shawl
3 jackets/cardigans
1 dress
2 long-sleeved tops
2 short-sleeved tops
1 shell
1 pair of long boots
1 pair of ankle boots
1 pair of dress shoes
1 necklace
3 pairs of earrings
1 down vest
2 coats
Here's a photo of the bulk of it: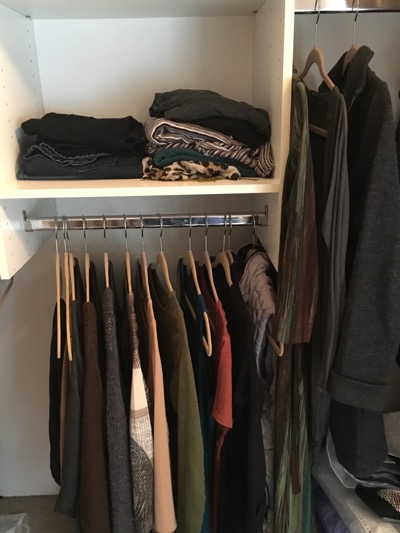 It's worth noting that there was some overlap between the two seasonal collections: A down vest, two ponchos and a shawl, one pair of jeans, and three shirts appear in both collections, along with one pair of earrings, a necklace, and a scarf. That's 11 items. A third of the collection.
I hate winter, but I prefer winter clothes to summer. So it was fun for me to pick out old friends to dress in. I foresee needing to purchase some very comfortable but nice flat shoes and perhaps a skirt. If I do that, I'll try to take items out to compensate, so the collection doesn't swell.
As much as I'm looking forward to getting into my leggings, I know that I will miss my white jeans. They were the foundation of my wardrobe this summer!
All in all, Project 333 has a been a real success for me. I'm interested in hearing from you if you've tried it!
Tagged with: closets, minimalism, project 333, wardrobe