Using Trello for task management
I've known about Trello for years. My weird location-based memory allows me to remember exactly when I learned about it, from a client: May 20, 2013. That day, I glanced at the website, accepted her enthusiasm for it, but for some reason dismissed it. (I was probably enamored with another system at that moment.)
Of course, Trello has come up many times since but it's only been this month that I started playing with it. I don't know what took me so long, since Trello has so many things I like:
It's beautiful
It allows me to use a kanban-style board
I can drag items around it
There's an app so it's always with me
It's extremely flexible
It can also be extremely simple
I can embed information and deadlines into notes but they're not in my face
It's free!
Trello consists of boards (you can have many boards) that contain a series of lists, organized in columns. The lists contain notes. That simple format is extremely flexible.
So far, I've created a few Trello boards for task management. One has tasks by category (each list is a category). One has the day's tasks, organized kanban-style, with lists called Tasks, Doing, and Done. Right now I'm playing around with having an hourly task board where I select the tasks I'll be doing in the next hour (each time slot is a list) with the first list being all the day's tasks. The idea is that it can provide structure on those days I'm working at my desk all day. I have a board that allows me to categorize tasks after the fact, so that I make sure that I'm doing things that help me, my family and the world every day. Here's a screenshot of that board. (I call it my Do Good Task Board.)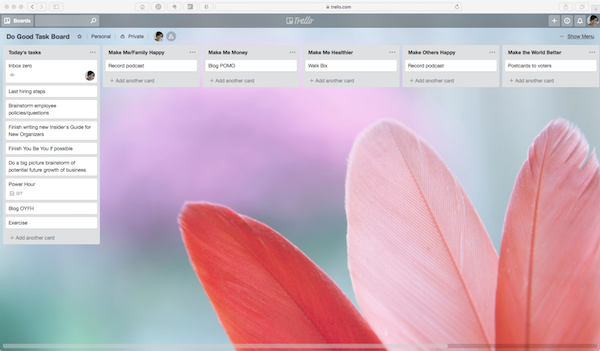 One beautiful thing about Trello is its beauty. When you create a board, you can select from a wide variety of background images (or you can just have a solid color as a background). I like that it's very easy for me to distinguish one board from another if you have more than one open, like I usually do. The images, in general, are peaceful and lovely. The format is simple.
Earlier this year, I was using Todoist, a very robust task app. But I quickly got overwhelmed and it became scary to even look on the tasks on that list. So it's on ice for the moment.
On our podcast, Getting to Good Enough, Shannon Wilkinson and I recorded an episode on task management (Episode 6). We talked about various ways we track tasks and emphasized that there's no such thing as a perfect way to do it. Both Shannon and I confessed that Todoist had gotten out of hand for us. Shannon has since told me that she regained control of Todoist and is enjoying it. But I'm experimenting with Trello, which seems simpler and more flexible to me. I'll keep you posted on my progress with it!
Tagged with: task management, time management, trello