Welcome back, Itso bin!
In 2011, I wrote a blog post in praise of Target's Itso bin. I was inspired to do so because of a great post by my friend and colleague Aby Garvey on the Simplify 101 blog.
Aby had turned me on to the Itso bin, a rather non-descript plastic bin. It's slightly narrower than a plastic shoe box, with higher sides and no lid. Aby showed me all sorts of great ways to use Itso and became my go-to container. I bought them whenever I saw them. I used them in my own home, as well as with clients. And then, in 2013, Target discontinued them.
This year, in what feels like a storage-solution miracle, Target has brought back the Itso bin. The color is different—it's more milky white than translucent (they call that color "sour cream," which seems kind of icky to me), and it now also comes in smoky gray and blue (below). But the shape is the same and they're still very useful.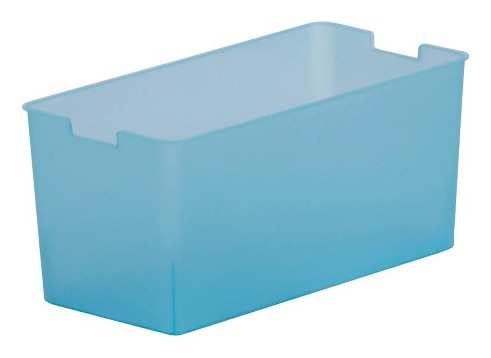 It appears they're available only in-store on not online. I check for them when I'm in Target and more often than they don't have any. But I just wanted those of you who missed Itso to know that they're back!
Tagged with: aby garvey, organizing products, storage