Why do we overpack?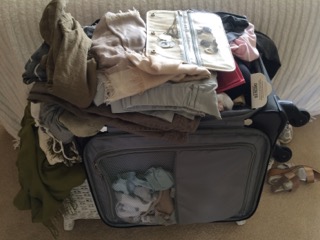 I just returned from an eight-day trip to visit family in Walla Walla, Washington and attend my high school reunion. I had a great time, but I'm glad to be home.
As usual, I packed too many clothes. (That's a photo of my suitcase on this trip as I was facing down repacking it.) I was getting frustrated, so I started to ponder why I (and I assume others) do this. It's an irritating practice because it actually makes life on the road harder. As I've written about it before, there are benefits to packing light:
It makes it easier to choose what to wear when I'm on the road, particularly if I plan my outfits by ahead of time.
It makes it easier to find things in my suitcase, if I'm not able to unpack at my destination.
It makes it easier to repack to return home if I have unpacked.
It saves me room to bring home gifts (or, in the case of trips to Walla Walla, wine).
It makes my suitcase lighter and therefore easier to manage during travel.
It makes it easy to carry on bags, rather than checking them.
It makes unpacking easier.
So why don't I pack less? I think it's because I'm afraid I won't have the clothes I want when I'm getting dressed at my destination, so I pack extra. And it's easier to delay decisions about what to wear (does that sound familiar?). So packing gets easier but living on the trip gets harder.
I travel again in a few weeks and I vow here and now to pack as light as possible. I know it will make my life easier and that's the name of the game for me.
How about you? Do you consider yourself an overpacker? And, if so, why do you do it?
Tagged with: packing, planning, simplicity, travel