A storage solution for my colored Sharpies
Several weeks ago, I blogged about organizing my coloring supplies. I enjoy coloring in coloring books intended for grown ups and I use colored pencils and Sharpies primarily.
In that blog post, I showed how I organize my dozens of colored pencils. (I use Prismacolor Premier pencils.) And I mentioned that I had yet to figure out a good way to organize my colored Sharpies. At the time, they were laying flat in a box all mixed together.
Well, I've figured out a method that's working well for me! I separated the Sharpies by color family and am now storing them upright in mugs. I wanted to use canning jars, but didn't have a sufficient supply on hand. I have more coffee mugs than I need (most of them are souvenirs), and this seemed like a great way to use them.
This is how I was storing them, completely ineffectively.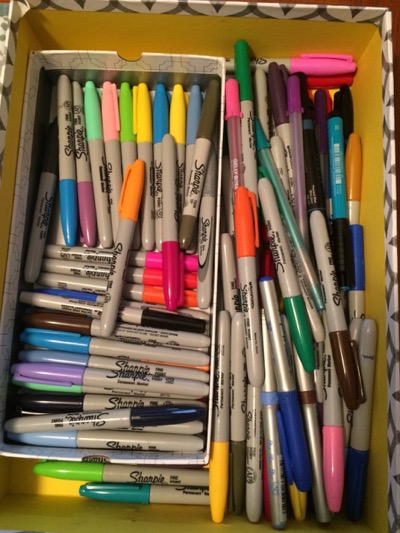 And here they are sorted. The mug on the top left contains the Sharpies I was using for a specific coloring page.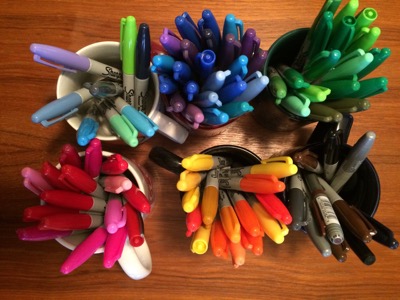 I stored the mugs on top of a CD shelf we have in our living room. It's not the most inspired piece of home decor, but it's not offensive. I just bring the mug with the current colors over to the area in which I'm coloring.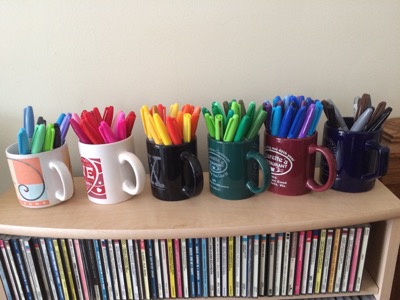 This has proven to be a simple and effective solution for me! (And I didn't invest any money in storage solutions!)
Tagged with: coloring, crafts, happiness, organizing products, organizing systems, relaxation, self-care, self care