App of the week: SleepCycle
When I was at the NAPO conference in March, one of the keynote speakers, Joanne Lichten, Ph.D., RD, aka Dr. Jo®, recommended an app called SleepCycle. She was talking about the importance of good sleeping habits for good health and self care. I had my iPhone with me, so I downloaded it on the spot, during the talk. (The app costs 99 cents.)
SleepCycle acts as a nifty alarm clock, as well as a monitor of your sleep patterns. It uses the accelerometer in your iPhone to monitor your movements while you sleep. You place your iPhone, with the SleepCycle app running, next to your pillow.
There is usually less physical movement during deep sleep. If your alarm clock goes off while you're in deep sleep, you wake up feeling groggy. When you use SleepCycle as your alarm clock, it starts sensing movement a half hour before the time the alarm is set to go off. If you move during that window (indicating you're not in deep sleep), the gentle alarm goes off. That way you wake up before you fall back into deep sleep. The result? You wake up refreshed, rather than groggy.
I've been using it more than a month and so far I love this as an alarm clock. The tone I selected is sort of new-age music and it comes on very softly. I simply pick up the phone to put it on snooze. It goes off again in a few minutes—the amount time between snoozes decreases as you get closer to your target wake-up time.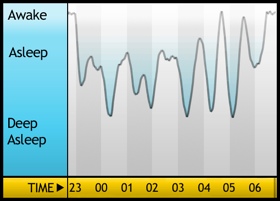 My sleep graph last night
The other fun part of SleepCycle is that gives you a graph of your sleep cycle throughout the night. It's fascinating. I fear, though, that for those of us who don't sleep alone it's inaccurate. My husband is a bit of a toss-and-turner and I suspect the accelerometer is picking up his movement as well. I hope that my sleep last night was better than the graph at right indicates!
SleepCycle also shows you the time you went to bed and got up, and how long you slept. And it tells you how many hours a night you average. I average 7 hours 31 minutes over 39 nights. That makes me happy!
I love using SleepCycle as an alarm clock. It's made getting up easier and it's such a gentle way to awaken. (Side benefit: It doesn't wake up my husband, who usually gets up after me.)
One downside is that the phone needs to be plugged in while it's working. Not a problem for me…I would need to be plugging it in at night anyway. The other downside is that calls or texts could come in and wake me up, but I just put it on airplane mode.
Intrigued? Click here to download SleepCycle for 99 cents. I'm glad I did!
Tagged with: app of the week, apps, health, sleep