At last, an organized and attractive bag
I love having an organized purse. For some time I used the Baggallini City Bag, which I liked because it held what I needed and I could find things fairly easily. But it was a little more casual than I wanted when I was dressed to impress.
Then I switched over to a suede Coach bucket bag I had. It was nice, but hard to keep organized.
Ah, but last week I got a Butler Bag. I'd been aware of these bags for a little while, but not convinced they'd be great for me. Then my friend Aby Garvey got one and she allowed me to paw through hers. That was enough. I needed one. (Maybe it was that touch thing I blogged about earlier this week.)
I actually purchased the shiny espresso vinyl version at Kmart after my fashion adviser, Geralin Thomas, informed me that vinyl is in. (Who knew?) So I spent only $25 on this bag that I'm so thrilled about. I'm thinking I'll probably upgrade to leather at some point, though.
What's so great about the Butler Bag? The interior bottom of the bag has an insert with structured compartments that allow the bag's contents to stand up on end. Once you assign a place for everything, it's so easy to find what you need. And the bag holds a surprising amount. I have the classic size, which isn't very big. And it holds everything I like to tote around, including my camera, iPod Touch, GPS, wallet, sunglasses, lipstick, lip gloss, Kleenex, pen, mints, business card case and a notebook. And there's room for more.
Here are some pictures of my bag. The only thing that's missing from the photos of the contents is my camera, because I was using it to take the photos.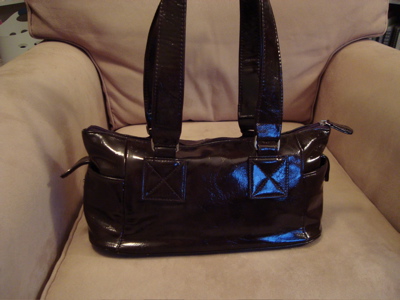 Here it is all zipped up (and full).
This is what's inside my Butler Bag. I store my camera in it too.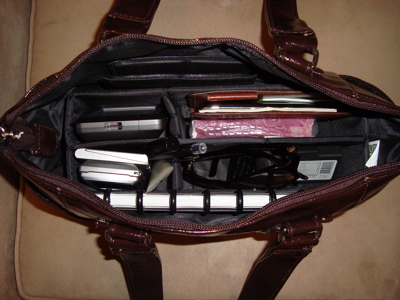 Here's my bag with everything in place.
Tagged with: aby garvey, butler bag, geralin thomas, purse