Decluttering Your Home: A review + giveaway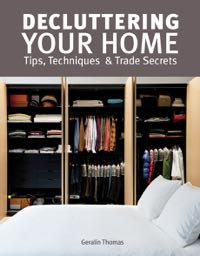 My friend, the amazing organizer Geralin Thomas, has written a fabulous new book, Decluttering Your Home: Tips, Techniques & Trade Secrets. The 176-page book, published by Firefly Books, is heavily illustrated with beautiful photos and drawings.
The publisher provided me with a copy to review and give away to one lucky reader! (See giveaway details below.)
I need to start this review with a disclosure: Geralin is a good friend of mine, as regular readers of the blog know. So I'm admittedly biased. But, really, even if I had never met Geralin, I think I'd be gaga over this book.
After an overview chapter on clutter and the hold it can have over us, the book is divided into the following sections:
Household clutter (divided by space in the house)
Digital clutter
Calendar clutter
Maintenance
Checklists and planners
Here is a photo of an interior spread in the Kitchen chapter of the book.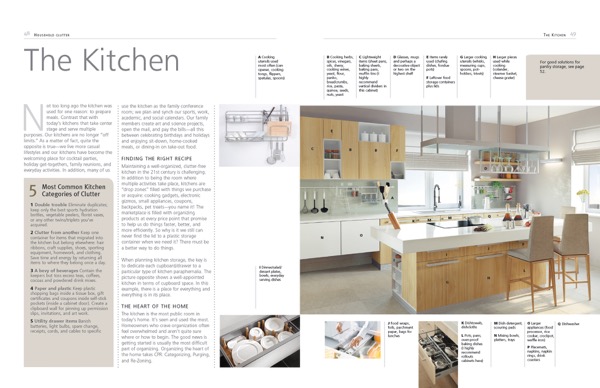 Geralin has been a professional organizer since 2002. It's abundantly apparent in this book that she knows her stuff. The book is full of bite-sized information and suggestions for every area in the house. It's richly illustrated, making it really appealing to read and very accessible.
The information in the book is a wonderful combination of practical and aspirational. She covers things that are in every home (like junk drawers) to things that I probably could only aspire to (a converted armoire-style storage cabinet with custom-made drawers to act as a pantry). So in that way, it's a little like Pinterest!
In the book, Geralin offers specific suggestions on decluttering, as well as fantastic organizing and storage tips. So if you're not dealing with a whole lot of clutter but just want to fine tune your organizing, you'll love this. If you are dealing with clutter, it'll be a godsend. I love the chapter on maintenance, which covers creating habits and also offers advice on coping with backsliding. And the final chapter—full of checklists of chores, tasks, and even wardrobe and meal planners—is really useful.
Would you like a free copy? Enter the giveaway!
To be entered in the giveaway, you must leave a comment here. Each commenter will receive one entry. After you've entered with a comment, you may get additional entries by tweeting about the giveaway (be sure and use @janinea in the tweet, so that I see it) and/or writing on the wall or commenting at the Peace of Mind Organizing Facebook page. The giveaway will end on Sunday, November 29 at noon central time and I'll announce (and inform) the winner on Monday, November 30.
ETA: The giveaway has closed. Congrats to Jessica VanSumeren for winning the giveaway!
Tagged with: books, geralin thomas, giveaway