Enter to win a copy of Soulful Simplicity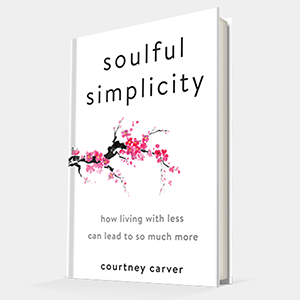 Courtney Carver's excellent new book, Soulful Simplicity: How Living with Less Can Lead to So Much More came out a month ago, on December 26. That day, I published a Q&A with Courtney about the book and her journey.
Soulful Simplicity is my favorite in the simplicity/minimalism genre. It's heartfelt, wise and inspiring. If you're a regular reader of my blog, you know that I've been following Courtney's Project 333 minimalist clothing challenge for a year and a half. So she has quite literally inspired me to simplify my life.
Giveaway!
Courtney's publisher has sent me a hardcover copy of Soulful Simplicity to give away to one lucky reader. To enter, post a comment below about why you need to read this book. After you've entered with a comment, you may get additional entries by tweeting about the giveaway (be sure and use @janinea in the tweet, so that I see it) and/or writing on the wall or commenting at the Peace of Mind Organizing Facebook page. The contest ends at 11 pm, central time, on Wednesday, January 31. I'll use the Random Number Generator to pick the winner and I'll announce the winner's name on Friday, February 2.
Tagged with: books, courtney carver, giveaway, simplicity