My spring 2017 Project 333 collection
When I decided to try out Project 333 in July of last year, I decided it would be a year-long experiment in trying to dress with less. This is my fourth quarter, so the year is almost up. I'm still loving it!
It took me a couple of weeks into the quarter to finalize the collection. That's because my friend Shannon Wilkinson was visiting from April 5 to 11. I knew we would go thrift-store shopping, and we did. So I waited to make my selections. Once we'd shopped, I then had to figure out how to integrate the new stuff into the collection, which made the choices slightly harder than they were last quarter.
Shannon left yesterday and in just 15 minutes this morning, I had it all narrowed down. There was less overlap than usual between the last collection, probably because of the change in season. Only eight items overlapped, including a dress and a jacket I purchased in February. (When I brought them home, I took out two items from the 3rd quarter collection.)
Here's what I ended up with:
7 pairs of pants (including 3 pairs of jeans and 2 pairs of leggings)
2 ponchos
1 shawl
2 scarves
2 jackets
6 dresses or tunics
3 long-sleeved tops
2 short-sleeved tops
1 shell
1 pair of black flats
1 pair of ankle boots
1 pair of sandals
1 pair of casual shoes
1 necklace
2 pairs of earrings
Here's a photo of items that live in the closet: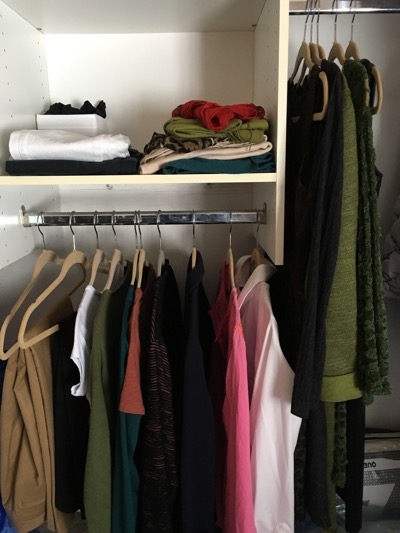 I did fudge a little, in that I didn't put away a few new dressy tops that I don't know if I'll wear this quarter. But I have a some special occasions this quarter (like my 27th wedding anniversary tomorrow and my husband's birthday and a wedding next month) and I wanted to give myself some flexibility on what to wear. Oh, yes, and I'm also going to Chicago next week to see Hamilton!
As a reminder, my collection includes clothes, shoes and accessories that I wear out of the house to client appointments (but not team organizing appointments, to which I wear work-out clothing) and social events and just going about life. It does not include dog-walking clothes, exercise clothes, pajamas or underwear.
I am still loving how easy it is to get dressed every morning, thanks to the limited number of options. I spend virtually no time choosing what I am going to wear. Nobody notices that I wear the same things over and over. And my collection only includes items that are comfortable and enjoy wearing.
I suspect I'll keep going with Project 333 after my year is up, though I might be inclined to loosen the rules a little more. If you're intrigued, I encourage you to give it a try!
Tagged with: closets, minimalism, project 333, wardrobe