My favorite new iPhone accessory
I bought an iPhone 6S on February 26. I love it of course. I've never been shy about expressing my love for my iPhone. And that love has not diminished an iota since my first iPhone, the 4S I bought in 2012. This new phone replaced my nearly two-year-old iPhone 5S whose storage had filled up. I blame my puppy, Bix, who's outrageously photogenic, for that.
In any case, I bought an iPhone 6S (not Plus) with 128 gigabytes of storage. I went with gold again. I love that I have a ton of storage space. I love that's a little bigger than the 5S, which my aging eyes appreciate. I love Apple Pay and I love the Live Photo feature, which displays the little bit of video that took place before I take a still picture. (And with the free Lively app I can now easily make gifs from still photos.)
I bought the Apple leather case in red (which matches my Kindle case, which makes me unduly happy). I love it too.
But you know what I love the most? I'm absolutely delighted with an accessory recommended to me by my friend Shannon Wilkinson. Shannon was visiting from Portland in February and was kind enough to go with me to the Apple store and help me navigate the sea of purchase options. (Thank you, Shannon!)
She told me about the Bracketron Si Dash Mount. This smartphone dashboard mount is magnetic. It comes with a little piece of metal that you put inside your phone case. You mount the Bracketron to your dashboard or windshield and you can just rest your phone on the it without fiddling with brackets or clamps. One simple motion and it's on. And it stays on.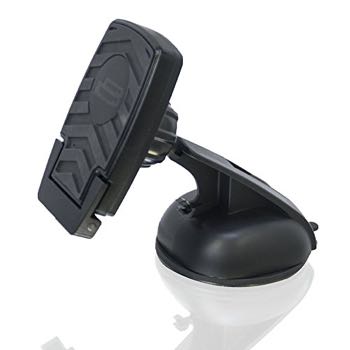 It's such a simple thing but it makes a huge difference. Mine is mounted to the dashboard and it holds my phone at eye level. Before my put my phone in the center console cup holder, which made using it for navigation a little tricky. I could hear the navigation easily, but if I wanted to glance at the map, I'd have to take my eyes off the road and look down. (Or look at my Apple Watch on my wrist.)
Now I can see the navigation on the phone easily while driving. And it makes it very easy to enter my mileage at the beginning of the trip, or to take a call while driving or place a call at a light. (My 2008 Honda CR-V doesn't have built-in bluetooth.) It also frees up a cup holder.
The combination of a new phone and this dashboard mount has put a little skip in my step!
Tagged with: apple, apps, ergonomics, iphone, technology