My third Project 333 collection!
In July, I started what I think will be a year-long experiment with Project 333, the challenge created by Courtney Carver of the Be More with Less blog, in which participants dress from a 33-item wardrobe collection for 3 months at a time. I heard Courtney speak here in St. Louis in June and was intrigued.
I've blogged about it a couple of times. Here's my first post when I selected my initial collection. I went into some details on the rules there. Three months later, I evaluated the first quarter and selected my second quarter's clothing.
Before I knew it, it was December 31 and the second quarter was over. Never did I feel deprived of clothing in the second quarter.
Yesterday, I spent a little time picking out my clothing for the first quarter of 2017. Here's the thing that struck me: The longer I do this, the easier it gets. The first two times, I narrowed options down to 40 or so and then had to whittle that away. Yesterday, there was no whittling. My first pass at a collection was less than 33, then I added a couple of things. The whole process took me fifteen minutes or less.
As a reminder, my collection includes clothes, shoes and accessories that I wear out of the house to client appointments (but not team organizing appointments, to which I wear work-out clothing) and social events and just going about life. It does not include dog-walking clothes, exercise clothes, pajamas or underwear.
There is a huge amount of overlap between the last quarter and this one. We had a late winter, so I didn't end up wearing a lot of my winter stuff until December. So most of it stayed in the collection, though I did switch out a few items.
The first quarter 2017 collection is comprised of:
4 pairs of pants (including a pair of jeans and a pair of leggings)
2 turtleneck sweaters
3 other sweaters
2 ponchos
1 shawl
1 scarf
4 jackets/cardigans
1 dress
2 long-sleeved tops
2 short-sleeved tops
1 shell
1 pair of black flats
1 pair of long boots
1 pair of ankle boots
1 pair of dress shoes
1 necklace
3 pairs of earrings
2 coats
Here's a photo of items that live in the closet: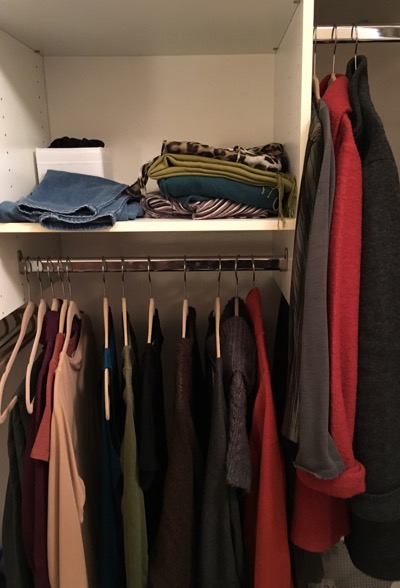 I still love dressing from this limited selection of clothing. I spend much less time and brain power figuring out what I'm going to wear, not to mention time I used to spend shopping, looking for just the right thing! I could even see creating a smaller collection, though I think I did wear virtually everything in the 2nd quarter collection at least once.
This experiment definitely strengthens my belief in the adage that less is more. I'm so glad I decided to give it a go!
Tagged with: closets, minimalism, project 333, wardrobe