NAPO-St. Louis Volunteer of the Year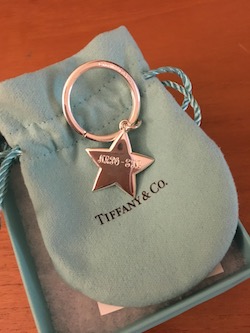 On Monday, I was honored to be named the Volunteer of the Year for the St. Louis chapter of the National Association of Productivity and Organizing Professionals (NAPO-St. Louis). The recipient of the award, which has been given out annually for the last three years, is selected by the chapter president, who solicits recommendations from the membership. The award comes with a lovely engraved Tiffany key ring, which I will carry with pride.
I was delighted when this year's president, Jennifer Stewart of Gateway Productivity named me as recipient, citing my longevity with and active participation in the chapter. NAPO-St. Louis has been a big part of my building my business and I intend to remain active as long as I'm in business. In addition to being a founding board member and two-term president about ten years ago, I served again as president in 2015-2016 and immediate past president for the last two years. Yesterday, I started a term as membership director.
All my team members are members of the chapter; in fact it's a requirement to be on my teams. I believe that investing money and time in the chapter demonstrates that an organizer is serious about her/his business. And those are the folks I like entrusting with my clients.
I was president the first year the award was put in place and was thrilled to award it to Denise Lee of Clear Spaces, who was then the chapter's immediate past president. Last year, Jennifer presented the Volunteer of the Year award to Lisa Gilliam of Six Hour Organizer. I can't wait to see who wins it next year!
Tagged with: honors, napo st. louis