Smead's Coloring Folders: Review and giveaway
When I attended the annual conference of the National Association of Professional Organizers this year, the item in the trade show that got me most excited was the SuperTab Coloring Folders being sold by Smead. That's right, coloring folders. File folders that you color on.
Last year, I got caught up in the coloring-books-for-grown-ups craze. I bought many pencils and markers and coloring books. (Perhaps too many.) And I color frequently, for relaxation. I've enjoyed coloring and I've enjoyed organizing my coloring supplies. So these folders really caught my eye. I was delighted when Smead offered to send me a set to try out and a set to give away on the blog.
The folders come in packs of 6, 12 and 24, all available on Amazon. Smead sent me two 12 packs. Each has four designs to color; two of the designs have sayings printed on them as well ('Give Life Meaning' and 'You are Your Only Limit'). I've enjoyed coloring them with markers. Here are a couple of examples. I colored the blue-hued folder with Faber Castell Pitt Artist Brushes and the flowered one with fine-point Sharpies. I will probably also try using colored pencils on these folders.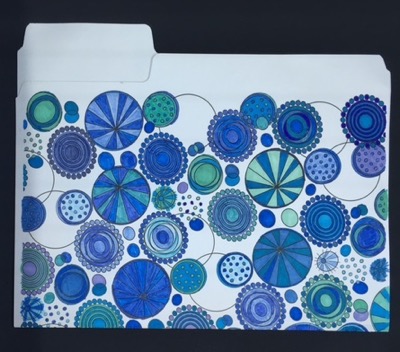 While I enjoy coloring, I really don't have anything to do with the finished product. Unlike knitting, where I'm creating something to use, my coloring pages sit in a box when finished (if I really like them) or just get recycled. With the Smead Coloring Folders, I can actually use and enjoy the item I've colored. It's amazing to me how gratifying that is!
Giveaway!
Wanna try these yourself? You can win a 12 pack of Smead Coloring Folders by entering my giveaway! To enter, post a comment below about why you wan to win. After you've entered with a comment, you may get additional entries by tweeting about the giveaway (be sure and use @janinea in the tweet, so that I see it) and/or writing on the wall or commenting at the Peace of Mind Organizing Facebook page. The contest ends at 11 pm, central time, on Wednesday, July 6. I'll announce the winner on Thursday, July 7.
The giveaway is now closed. Congratulations to Jessica Stallsmith, who won a set of coloring folders!
(Photos taken using the tabletop photo light studio SHOTBOX.)
Tagged with: coloring, crafts, giveaway, organizing products, relaxation