Spring 2019 edition of Secrets of Getting Organized Magazine
Just a couple of months ago, I wrote a post about being included in the Early Spring 2019 edition of Secrets of Getting Organized Magazine. Well, there's a new edition of the magazine out, the Spring 2019 edition and I'm quoted again!
This issue has completely different content than the early spring edition. I'm quoted in articles on organizing pet gear (p. 39) and also paper catchalls (p. 89). To be honest, my contribution this time around is fairly minimal. But the contributions of my organizing colleagues (our pictures and bios are in the back) really make the issue one worth buying, in my opinion.
Here's the cover, so you can pick it out on the newsstand.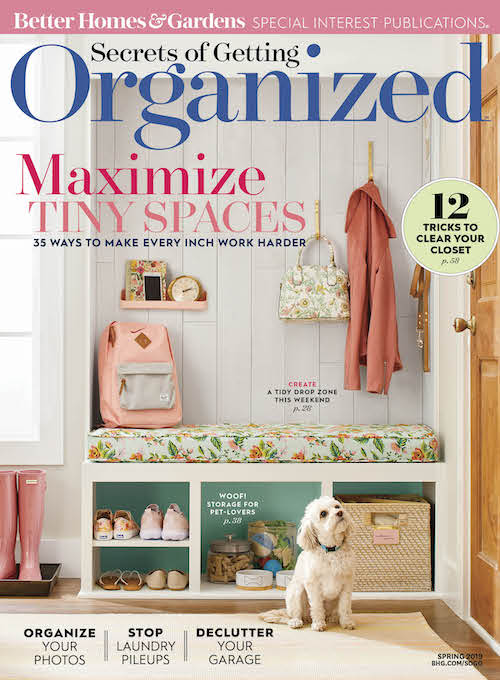 There are lots of great articles. But I particularly enjoyed these:
Field notes: Always in Style, about an office and studio for a Seattle-based textile business
Stop the Clutter at the Door, with some great storage ideas for mudrooms
Unpackaging 101, about what items to decant in your pantry (and how to do it)
Clear the Counter, about bathroom organizing
There are many other beautiful articles that I found very interesting. The issue went on sale on March 8 and will be available through June 7. You can buy it (the cover price is $9.99) at newsstands and bookstores nationwide and as well as grocery stores, big box retailers and home centers. I'm honored to be associated with it!
Tagged with: magazines, media, secrets of getting organized