Super simplifying travel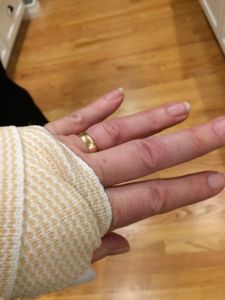 I'm traveling to visit my parents next week and, unfortunately, I fell and injured my wrist a couple of days ago. It's a suspected fracture, possibly just a sprain, but I'm in a splint and a sling. Luckily it's my left arm, so I'm getting by.
But as I think about this trip I'm taking, I realize that traveling one-handed is really going to force me to simplify. Pants with zippers? No thanks. More than a couple of bags? I don't think so. Shoes that tie? Maybe not.
My plan is to pare things down to an easy-to-wrangle carry-on (that I'll check), my computer bag, which fits over my shoulder and also hooks on to my suitcase, and my purse. That should be a bit of a challenge, since I'll be away over a week. But I know I can do it, because I really need to.
So that leads me to wonder: Why I don't do this every time I travel? If I can do it this time, perhaps I can do it the next. Perhaps packing lightly my necessity will transfer to future trips, as I enjoy the ease simplicity can bring.
Tagged with: simplicty, travel