The Other Side of Organized: a review and giveaway
My friend and fellow organizer, Linda Samuels, CPO-CD®, has just published a fabulous new book called The Other Side of Organized: Finding Balance Between Chaos and Perfection. She sent me a copy for review and at the end of this post I'll tell you how you can enter to receive a copy too.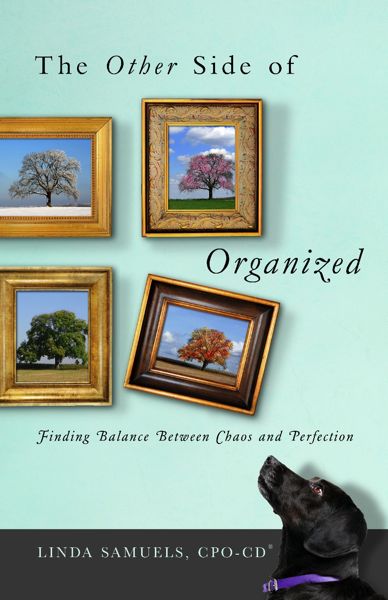 I love this book. I'll start by telling you what it's not: It's not a how-to. It's not full of tips on getting organized. It's not written for any special population. There are lots of great books out there like that.
The Other Side of Organized is different. It's a slender, nicely designed volume full of short essays on getting and being organized and on balancing your life. As I read it, the word "gentle" kept coming to mind. Linda, a veteran organizer, is very gentle to her reader. She's not telling you what to do. She's suggesting ways of thinking and doing.
The book is very nicely written and full of insights. Linda's writing tone is gentle, kind and patient. I think one of the reasons I like it so much is that Linda and I share a lot of the same ideas and attitudes about organizing.
Here are some of my favorite passages:
Why is it so hard to let go? We hold on to our possessions, our busy schedules, and our familiar routines. Do we think that if we let go, we will lose a part of who we are? We can potentially hold on so tightly that we deny ourselves the joy felt from releasing, making space for something wonderful, and experiencing tremendous growth.
I've been surprised more than once to discover that one person's organizing starting point is an other person's end goal.
Be kind to yourself. If you can't decide between organizing or going for a walk, take the walk, clear your head and then come back and reset your timer for a 15-minute organizing session.
In discussing tackling projects, Linda advises the reader to break it down into small parts, then:
Stay with the project from start to finish, understanding that there will be distractions and life challenges along the way that can pull you off course. Just recognize that challenges are an integral, normal part of the process. The key is coming back even after you've been sidetracked.
Would you like to win a free autographed copy of The Other Side of Organized: Finding Balance Between Chaos and Perfection? To enter, just leave a comment below. For an extra entry, tweet about the giveaway on Twitter (in addition to your comment). Please be sure to put @janinea in the tweet so I'll see it. The winner will be selected at random on Saturday afternoon (February 6, 2010).
Tagged with: books, giveaway, linda samuels