The rewards of a closet purge
My friend and fab professional organizer, Geralin Thomas, came for a visit a couple of weeks ago. One of the services Geralin offers her clients is wardrobe organization, which includes closet organizing and wardrobe selection. She helped me six years ago (time flies!) and I leaped at the chance to have her help me with my wardrobe again.
We were on a tight schedule and we started with a couple of hours in my closet. We went through the whole closet and she weighed in on whether or not I should keep each item. The idea was that donating the clothing that I don't wear or doesn't suit me allows me to see what I do have to use as a base for creating wardrobe capsules.
For each item, we considered the following:
Whether I like it
Whether I wear it
If it's flattering on me (Geralin's very good at gently telling me when an item is unflattering)
If it's still in style
If it's age appropriate
If I have multiples of the same type of item, and if so, which to keep
In going through this process, I was amazed at how few items made the cut. We filled two large trash bags with donations. (I took them to the Scholarshop which will provide me with a valuated receipt for tax purposes.)
Then we went shopping. Unfortunately, we hit bad traffic and were left with only about an hour to shop. I purchased five terrific pieces of clothing under Geralin's guidance and that was that.
In the section of my closet where I store tops, I put away the new clothes and moved all the empty hangers to one side. Here's a photo.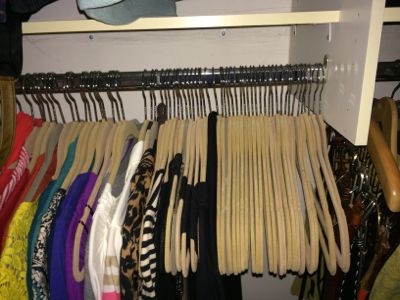 I have to admit that I freaked out a little that my closet was so empty. There are definitely some wardrobe gaps that need to be filled! (I was left with only one pair of dress pants, for example.) But Geralin guided me on the basics I need to buy to build a great capsule wardrobe.
After I moved the empty hangers to a spare closet and got used to the idea that the stuff was gone, I began to realize the rewards:
I can see everything I own much more easily
The closet contains only clothes I actually like and wear
Clothes hang more freely and therefore stay more wrinkle-free
It's much easier to make choices because there are fewer options (which makes decisions so much easier for me)
I can put clothes away with virtually no effort
There are no clothes in the closet mocking me for my bad judgment or making me feel guilty for not wearing them
I know what clothes I need and I can shop mindfully
In looking around the web on blogs about wardrobe capsules and minimalist dressing, I came upon the Un-Fancy blog, which I'm enjoying. If you're intrigued at the idea of dressing well with fewer clothes, you might want to check it out.
If your closet is overstuffed, consider letting go of those items that don't make you feel fabulous. It can be a little scary, but it can also be really rewarding. If you want to take the plunge, Geralin offers personal style coaching over the phone!
Tagged with: closets, geralin thomas, mindful shopping, minimalism, shopping, wardrobe