The virtues of a nice lined notebook
I have a fondness for a nice notebook, particularly one with lined paper. I'm somewhat particular, but luckily there are a lot of notebooks that meet my exactly standards. Way back in 2008, I blogged about some notebooks I'd been enjoying.
When I want to put together a planner-type notebook, I go for respositionable-page, ring-bound notebooks, like Levenger's Circa notebooks or the Arc Notebook from Staples. (I blogged about the Arc Notebook in July of 2012.)
Lately, I've been more interested in making task lists in my notebooks than using them to organize projects. I use lined notebooks to capture my thoughts on various topics. I like having one go-to notebook so that I can peruse the results of previous brainstorming sessions.
In December 2011, I discovered the At-A-Glance Planning Notebook with Circle the Date. (I wish I could provide a link, but they're no longer selling it!) Here's a photo of a blank page.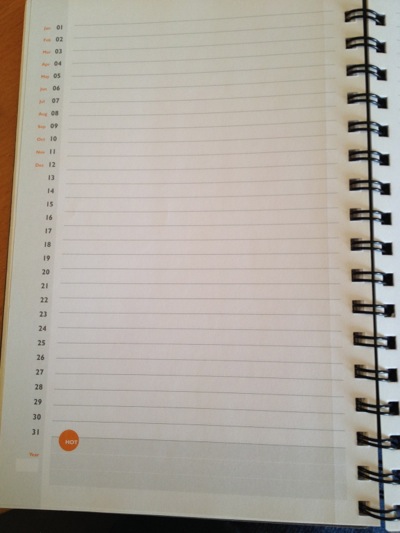 Listed vertically on the outside margins are the months and numbers 1 to 31. You circle the date and fill in the year, which for some reason really appeals to me. I think it's because it's a visual reminder to date my notes, which are so important when I'm looking back at them.
I love the feel of the paper and the subtlety and spacing of the lines. Love love love. I also love the orange and grey color scheme. Just today I came to the "Time to Reorder" page, so before long I'm going to have to switch notebooks. As I mentioned, they're no longer selling this particular model, but the good folks at At-A-Glance were kind enough to send me some products to test out. Among the products was their Planning Notebook with Reference Calendars notebook, which is quite similar. Same subtle lines but no circle the date. And it has a 12-month calendar at the bottom of each pair of pages, which is really handy in a meeting.
These would be great notebooks for task lists. But that's not how I use them. Here are the kinds of things I capture in my planning notebook:
Potential blog post ideas
My Be-Do-Have exercises (see Margaret Lukens' Be-Do-Have wee book to see what I'm talking about…this is a really useful planning exercise)
Ideas on any shifts I'm considering to my business model
Notes when I'm reading a book
Notes when I'm taking a class
Reflections I capture when I'm on vacation
For me, having one place to write down these kinds of thoughts is so important. If I were to have different notebooks for different types of topics, I'd inevitably not have the right one with me (or I'd grab the wrong one). All the entries are arranged chronologically, since I just go to the next available page when I'm about to start a new note or list. Convenient, easy and, for me, really effective.
P.S. At-A-Glance provided me with a free shipping coupon code to share. If you order at least $50 in products from their website use the code GRFSXX3 to receive free shipping. It expires 12/31/13.
Tagged with: at a glance, journal writing, notebooks, organizing products, task list