Whales, koalas, kangaroos and more!
My brother, Larry, my niece, Miranda, and I took a trip a couple hours north from Brisbane to the Sunshine Coast where we paid a visit to Larry's sister- and brother-in-law in Caloundra. We had such a lovely time.
Yesterday we went whale watching and saw humpback whales. I can't resist sharing a photo.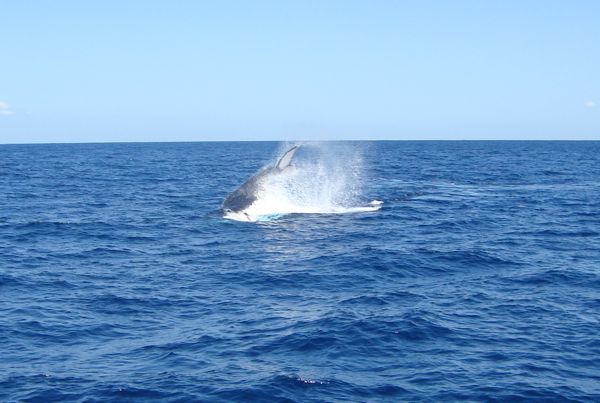 Last night the family played twelve rounds of Scattergories. It's the first time I've ever played with anyone who wanted to play as long as I did! Larry won two games, I won one, and we tied one. (Each game consists of three rounds.)
This morning we went to the Australia Zoo which was owned by famed Crocodile Hunter Steve Irwin. It's a very hands-on zoo, dedicated to conservation. I'm not necessarily a big fan of zoos, but I decided to go to make sure I saw Australian animals during my visit here.
Boy did I. Our visit started with me getting to hold a koala. Oh my goodness. She was very sweet. And she was holding on hard! It was as though I was getting a bear hug from her. Here's the photo of Miranda and me with Mist, the koala (taken by Larry):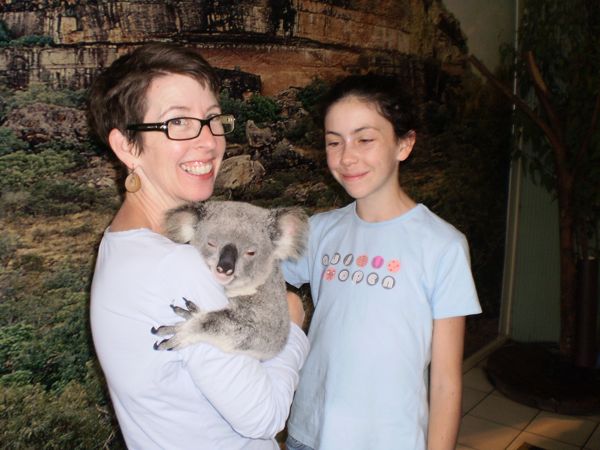 Other highlights included visiting Roo Heaven, an area in which kangaroos loll about and are hand-fed by the zoo visitors. (They sell us kangaroo food to feed them.) It was indeed heaven. These creatures were so interesting and so, so tame. I even pet a little joey, who was amazingly soft.
Here's me feeding my very first kangaroo: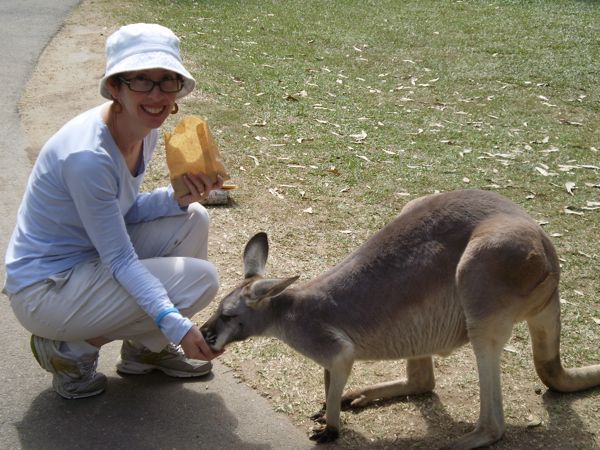 Larry and his family live on the edge of a forest and the birds are so loud and just different from what I'm used to. The kookaburras, in particular are amazingly noisy. They do sound like they're laughing. Here's a photo of three kookaburras, taken at the Australia Zoo. (Miranda took this excellent shot.)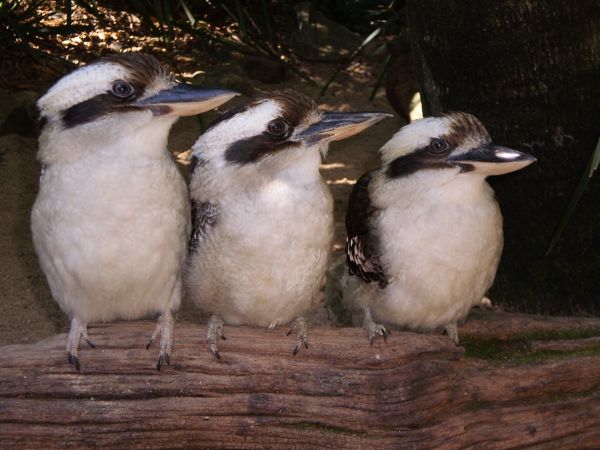 Tomorrow the AAPO conference starts. I'm really excited to meet the Australasian organizers, but it is a little tough to be thinking about working!
Tagged with: australia, family, travel