While I was perusing Facebook this morning, I stumbled onto a link to a post on organizing extra buttons on the Organize and Decorate Everything blog.
You know what I'm talking about, right? Those extra buttons that come (usually in some sort of envelope) with new clothes.
In that blog post, Leanne, the writer, details her beautifully organized and very labor-intensive method of dealing with these buttons: she either uses the original packaging or puts the button in a tiny clear-plastic envelope. She writes a description of the garment on the envelope. She does the same with the extra thread that comes with the garment.
Then she files these tiny envelopes in small accordion file, organized by color. Once a year, she goes through the accordion file and weeds out the buttons that belong to garments she no longer has.
Wow. Just wow. To me, that is a whole lot of work that, in my life anyway, would pay very few dividends. I can't remember the last time I needed one of the extra buttons that came with a garment.
Let's contrast Leanne's method with my own. I have a mason jar that I put buttons in. When I buy a garment that has extra buttons (which these days is pretty rare, since I buy so many of my clothes at resale shops), I take the buttons out of the envelope and put them in the jar. And I throw away any extra thread.
In the rare event that I need one of these buttons, I just pour the buttons out of the jar and and find it. I have the matching buttons on the garment, so I can identify it.
That's it. It takes no time.
Here's a photo of my button jar: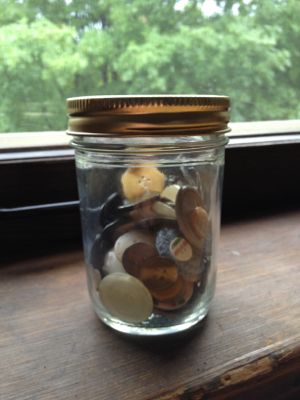 These contrasting methods do a marvelous job of illustrating an overriding principle I live by:
Organizing systems should be as complex as they need to be and not one bit more.
I found myself admiring how beautifully organized the buttons in that blog post were, and the beauty of accordion file of buttons sorted by color, and then I realized that for me, anyway, that would be a complete waste of time. And if I aspired to a system like that, I'd probably just have a big pile of buttons waiting to be processed. In the case of extra buttons, simple is best.
Not to be too much of an Amazon fangirl, but I just have to report how happy their Whispersync for Voice technology is making me. For some books, it's possible to purchase a Kindle book and also purchase (at a discounted price) the Audible audio version of the book.
Here's the great part: When wifi is on, the technology keeps track of your place, so that when you open your Kindle book after listening to the audio version (or vice versa), it takes you to where you left off. I love it!
I recently took an impromptu trip to Walla Walla, Washington, to visit my parents. That entailed not only a plane ride half way across the country, but a 4.5-hour car ride (each way) to and from Portland, Oregon. My preference is to read, not listen to, books, but when I'm driving, of course, audio is the way to go.
Thanks to Whispersync, I could easily transition from reading to listening and back. (I listen on my iPhone, via the Audible app.) While I ordinarily check my Kindle books out from the library, I purchased the wonderful and engrossing The Pillars of the Earth
(I think this is my third time reading it), so that I could also listen to it and become fully immersed on this trip.
This is yet another reason why I love my Kindle. If you have a Kindle and you do a lot of driving, you might check out Whispersync!
Here's something fabulous I just discovered: Amazon is offering FREE Kindle versions of over 100 classic books, with Whispersync audio narration for just 99 cents more.
Almost a year ago, I wrote this post on the importance of labels. I just read it again and think it's a message worth repeating. Plus, the photo always makes me smile!
Labels are really important. When I work with clients to set up organizing systems, I suggest labeling as much as humanly possible. This helps the client—and the client's family—not only find things, but them away in the proper place. That really helps in forming the habit of putting things away in a new place.
I love my Brother P-Touch labeler. (I've had a few…my current one is the semi-fancy PT-2030. which is right now on sale for only $20 at Staples!)
Don't feel like you can't make labels just because you don't have a fancy label maker. Post-It® Notes make great temporary labels. (And they now full adhesive notes, rather than just a strip across the top.) Simple address labels, printed on your computer or by hand, can make terrific, inexpensive labels. Martha Stewart has created a line of lovely labels and tags, available from Staples. On the other end of the spectrum, masking tape and a Sharpie will work great as well!
It doesn't matter how you label, just that you do it. And you should also pay attention to the labels. A few years back, I was waiting in my veterinarian's exam room and my brain scrambled as I looked at these canisters.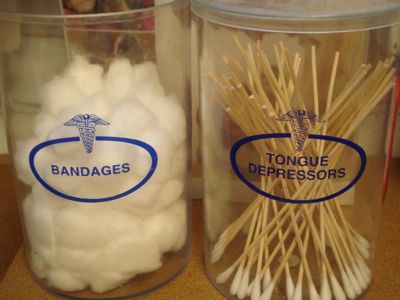 What the?
One thing to think about is that a label isn't just a physical thing. An oral label can be very powerful as well. If you have a cluttered catch-all room that you'd like to turn back into a guest room, stop calling it the "junk room" and start calling it the "guest room." That can be a powerful shift.
The label is the cherry on top of the organizing sundae. Don't forget it—it might play a powerful role in helping you maintain your newly established systems.
Since October, I've been trying to go to the fitness studio that I belong to, Take Action three times a week. Due to some circumstances I won't go into here, I hadn't been able to go for almost two weeks. But I managed to get there yesterday.
My workouts had been getting progressively easy over the last six months. But yesterday, I found my workout challenging. And tiring.
As I was using the elliptical machine, I thought about how, once again, exercising can be compared with the process of decluttering and organizing.
In the process of decluttering and organizing, you make decision after decision. At the beginning, that can be really tough, particularly since decision-making tends to be tough for people with a lot of clutter (otherwise they wouldn't have a lot of clutter). It can be hard to get started and painful once you do. But once you've been at it awhile, it gets easier. You have less resistance. And you get faster. Just like exercising.
I have a wonderful client who once referred to exercising her decision-making muscle. Before working with me, even small decisions were sometimes challenging. But after our work together, daily decisions became easy and clutter never reappeared.
The key is regular exercise. And regular decision making. That's how you keep from getting overwhelmed in these arenas. Doing something—anything—toward reaching your (exercise or organizing) goals is so much better than doing nothing, because it keeps the momentum going.
I'm happy to say that I'll be at the gym again this morning and am back on the path to thrice-weekly workouts. I anticipate it getting easy again and know it will stay that way as long as I keep going there regularly!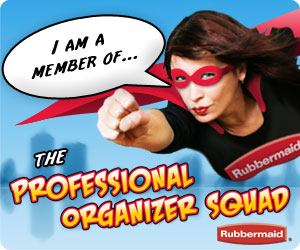 At the annual conference of the National Association of Professional Organizers a couple of weeks ago, Rubbermaid was awarded the prestigious Corporate Associate Member of the Year Award. That award is presented to "a corporate associate member who has made a significant contribution to NAPO and the profession of organizing."
A big reason that Rubbermaid was recognized was because of its Professional Organizer Squad, which is comprised of five NAPO members who blog for Rubbermaid and answer reader questions. I am so proud to be one of those five squad members, along with Allison Carter, Krista Colvin, Deb Lee and Beth Ziegler.
When the award was announced at the annual awards luncheon, I cheered for Rubbermaid and felt a certain sense of pride in taking a small part in their achievement.
If you haven't checked out the Rubbermaid blog, I urge you to do so. I think my colleagues and I provide some great information there.
Last week, iVillage.com had an article, Clutter-Free and Awesome: 12 Pretty Organized Spaces, in which the writer solicited photos of favorite spaces in the homes of organizing professionals. I found it highly enjoyable to gaze at the photos and read the explanations.
I was delighted to be included in the article and even more delighted that the photo of my office-supply closet didn't stick out like a sore thumb!
Here's the photo of my office closet that appears in the story. Please go check out the article and see some more beautiful, organized spaces.
I wish I had the answer to the age-old question of how to organize business cards. I manage my contacts electronically. I keep my contacts on my Mac in the Address Book program, which syncs to the Contacts app on my iPhone. Yet those little business cards still hang around and make me nuts.
I very rarely look at my large collection of business cards.I know I don't want to enter all those people into my contact-management system, because I don't want to clutter up my Contacts list. Plus, I don't want to go to the effort.
Here's a picture of my collection. I bought that box many years ago (in the 90s, I think) and formerly organized the cards alphabetically by last name. Of course, that was before electronic contact management systems.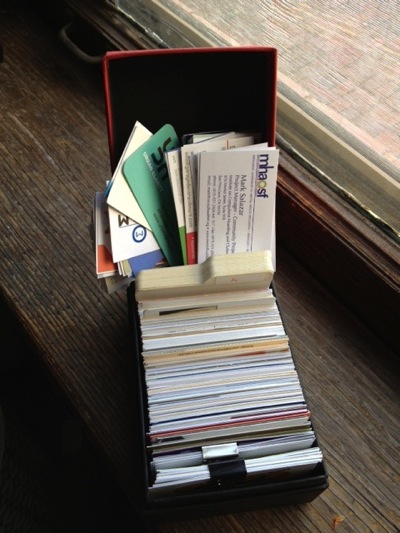 My overflowing collection of business cards
Five years ago, I remember talking with my friend and organizer extraordinaire Aby Garvey about wrangling business cards and was inspired by her blog post about organizing her collection of business cards. I went so far as to weed mine out and put them into groups, but I never made the index dividers. (I sound like some of my clients!) Of course, I've added more in the last five years.
I could just ignore them. Heck, I could probably just toss them in the recycling bin with little fallout. But that collection of business cards feels like unfinished business to me. It also feels like a problem that, as an organizer, I ought to be able to solve.
So I'm creating a plan of action to get this little monkey off my back. In the month of May, I will:
Go through the cards and enter contact info for people I actually contact into my Address Book if they're not already there
Throw away business cards of people I know are no longer in business or that I wouldn't do business with
Winnow my collection of cards down to people I truly think I might want to consult or refer. My goal will be for them all to fit in my red business-card box.
Group the cards by how I think of them
Create labels for those groups
Stop collecting so many business cards
Set up a routine to either file the business cards I do collect or enter them into my Address Book right away
This is a project I could work on ten minutes a day. Or while I'm on hold (at least the weeding part). I vow here and now to report back at the end of the month. I hope I'll have a photo of a nicely organized (and not full) box of business cards to show you.