When I'm working with a client, a few phrases make me cringe when I hear them come out of the client's mouth. And a few make my heart sing.
I think my least favorite phrase is:
"For now."
As in, "I'll keep that for now." To me, saying "for now" indicates that the client isn't committed to keeping something. And if we're dealing with a lot of clutter, hanging on to items that don't deserve a commitment is counterproductive (to say the least).
Whenever I hear "for now," I push back. I ask the client when s/he will know it's time to let the item go. Or I ask, "What would it feel like to let that go now?" Or I just pause and look at them calmly, hoping they'll realize that keeping something for now might not be in their best interest.
I also dislike hearing a client give these three (very common) reasons for keeping an item:
I paid a lot for it
It was a gift
I might need it some day
(Keep an eye out for a series I'll write soon countering each of those reasons.)
There are a couple of phrases I hear that make me smile. Topping that list is:
"I've been looking for that!"
I probably hear that at least once a session and it always feels so great. I know how thrilled I am when I find something I've been looking for in my home and I think clients have usually been looking longer and feeling less hopeful they'll ever find it.
I also love hearing the ubiquitous, "This feels so great!" And "I feel lighter!"
Helping someone lighten their load by decluttering is such a rewarding way to make a living. If I never heard a client utter "for now" again, I'd be thrilled. That's not going to happen, of course. But once we get past the "for now" part of the session to the "this feels great!" part, I know we're on the road to making a huge difference in the client's life.
I stumbled on this August 2013 post in my blog archives and watched it again. I think today is a good day to watch something that makes us smile, so I thought I'd rerun it.
I originally saw this video on Facebook and have watched all five minutes and forty seconds of the video at least a half dozen times. It makes me smile and laugh each time. In case you have seen it, I thought I'd share it here so you can smile and laugh with Ella Mae too.
Little Ella, who according to ABC News is 21 months old, clearly loves her Elvis and her daddy. Be sure and watch it through to the soulful finale!
Where are you on the New Year's Resolution Continuum?
(statistics from 2008 survey by Opinion Corporation of Princeton, NJ)
If you fall in that big middle group (or have drifted into the no resolutions group due to disappointment) this could be the year for something different.
A few years ago, Shannon Wilkinson and I teamed up to teach a teleclass on how to actually do the stuff you set out to do every year. We shared the reasons resolutions don't work, and more importantly, we talked about how to change that. We gave tips and strategies and guided participants through helpful exercises so they experienced a new way of approaching their resolutions and goals.
It was pretty darn awesome. And it's still available.
The audio of the class and a companion 24-page workbook are available for download right now. The workbook will take you through the process outlined in the teleclass and includes worksheets so you can keep track of your goals and resolutions and how you'll go about achieving them.
Maybe your resolution (once again) is to declutter and get organized this year. Or maybe you want to make changes for your health, creativity or finances. Our approach is terrific for whatever set your sights on.
Why Resolutions Don't Work (and How to Get What You Want Anyway)
The recording is great to listen to any time you want to re-vamp a resolution that isn't working, create a new habit or establish a goal that really works for you. The workbook can stand alone (if you'd rather read than listen) or can help you get more out of the audio.
Details:
In the audio, we talk for about an hour and then open it up for questions.
The course covers the common reasons that setting resolutions doesn't work, and takes you through exercises that help you get what you want.
The 24-page workbook is based on the content of the audio, but isn't a mere transcript. (The Q&A is transcribed, however.) It includes worksheets to make the most of Shannon's meditations.
This is for anyone who has been frustrated by resolutions or goals, and wants to learn a new way to approach it.
Are you in? Yes? Just click the "Add to Cart" button:
Here's to getting what you really want in 2017!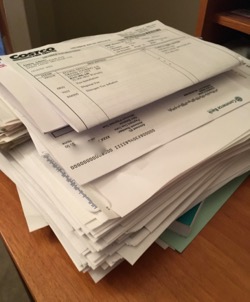 Much of the U.S. is dealing with some lousy winter weather today. Here in St. Louis, a two-day ice storm is forecast and both the national weather service and the state transportation division have instructed people to stay off the roads. I'm not going anywhere. Seems like a perfect weekend to catch up on a few things.
Are you one of the millions staying in this weekend? And is there a pile of papers in your house somewhere waiting to be filed? Here's my challenge to you: Set a timer for 10 minutes and start filing! If that pile's been there awhile, I bet a lot of the paper will have aged out. Throw away as much of it as you can. I'd be willing to bet that in ten minutes you'll make a nice dent.
And you'll never know what you might find in the pile. In 2015 I finally tackled a pile that I'd put on top of a filing cabinet because I needed to make files for them. (Bad organizer!) In that pile I found my grandfather's birth certificate. That may not sound like such a big deal, but I'm a genealogy researcher and for a number of years I'd been trying to solve the mystery of where my grandfather was born in 1904. The answer was sitting my house the whole time.
Between this past Christmas and New Year's, I tackled a really old pile of papers that had been mocking me in my office for literally years. There were no treasures there, beyond some nice handwritten notes from people. (I filed them in my Kudos file.) I think it took less than a half hour to process all that paper because I was able to throw so much of it away.
I have a pile of household papers needing attention in a different office in our house. I'm going to see how much progress I can make on it ten minutes at a time and I'll post here how long it took. That's a picture of the pile at the top of the blog post.
There's no better time than now to eliminate or reduce that pile!
ETA: I did address the pile pictured above, and after three 30-minute spurts, it's gone!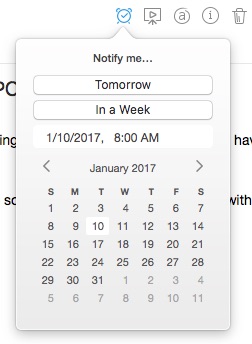 I've finally embraced Evernote and it's become an indispensable part of my work and life. Every now and then I think about writing another blog post about how I use Evernote and I get overwhelmed at the thought of it. So my plan is to highlight one feature at a time, as the mood strikes me. Today I'm going to focus on the Reminders feature of Evernote, which I absolutely love.
With Reminders, you can ask Evernote to remind you of something on a specific day or time. I get an Evernote notification on the lock screen on my phone and in the notifications on my MacBook. I also get an email. I love having all those bases covered.
How is this different from using my iPhone's reminders? The big difference is that I can attach Evernote notes to the reminder. I use reminders on my phone all the time, for things like taking the laundry out of the dryer or taking my vitamins. But Evernote reminders feel more robust and less ephemeral.
Here are a few examples of how I use it:
When I receive an email that requires future action, I'll forward the email to my Evernote account and then set a reminder to do the task. The email is then put in front of me on the appropriate day.
When I sign up for a telesminar, I'll forward the confirmation to Evernote and set a reminder. On the day of the teleseminar, I get a reminder that I can click to see the email with the call in instructions.
If I need to follow up on an email (say, somebody promised me they'll do something and I don't want to forget), I'll forward the email the promiser sent and set a reminder to follow up on it and the appropriate time. This has been a life saver.
When I don't want to forget to cancel a subscription, the Reminders feature saves my bacon. For example, just under a month ago I subscribed to Consumer Reports online so that I could check out ratings on tires. You pay $7 or so for a month and if you don't cancel it automatically renews. I didn't want to cancel as soon as I got my tire information, in case some other need came up in the month. So I created an Evernote reminder to remind me two days in advance that I needed to cancel. That reminder appeared this morning. I had no recollection of needing to cancel that subscription. It would have gone on until I noticed it on my credit card bill.
One downside to Evernote reminders is that you can't set them as recurring. Here's my workaround: For recurring tasks I embed the instruction to reset the reminder. For example, I have a task I do monthly for NAPO-St. Louis that I can't seem to save in my brain. So I wrote an Evernote reminder and included in the reminder note, "Then reset this reminder for next month."
I would never get Evernote just to use the reminders feature. But since I'm already using it, I find the Reminders to be a really wonderful benefit.
This morning I braved a whole inch of snow to drive into downtown St. Louis and do a spot on Great Day St. Louis, the morning program of our local CBS affiliate.
I've been on this show a few times, but it's been a couple of years. I was interviewed by the charming Matt Chambers, a genuinely nice guy.
My message was pretty simple. If you want clear countertops do the following things:
Clear out your cabinets and drawers so that you actually have space to store stuff you use.
Assign a place for everything so that you can put everything away.
Create two habits: Run the dishwasher at night and empty it in the morning and clean up the counter after dinner or before bed every night.
Keep paper off the counter.
Find an out-of-the-way spot for your electronics charging and consider creating the habit of charging them while you sleep.
Here's the video:
I had a great time!
In July, I started what I think will be a year-long experiment with Project 333, the challenge created by Courtney Carver of the Be More with Less blog, in which participants dress from a 33-item wardrobe collection for 3 months at a time. I heard Courtney speak here in St. Louis in June and was intrigued.
I've blogged about it a couple of times. Here's my first post when I selected my initial collection. I went into some details on the rules there. Three months later, I evaluated the first quarter and selected my second quarter's clothing.
Before I knew it, it was December 31 and the second quarter was over. Never did I feel deprived of clothing in the second quarter.
Yesterday, I spent a little time picking out my clothing for the first quarter of 2017. Here's the thing that struck me: The longer I do this, the easier it gets. The first two times, I narrowed options down to 40 or so and then had to whittle that away. Yesterday, there was no whittling. My first pass at a collection was less than 33, then I added a couple of things. The whole process took me fifteen minutes or less.
As a reminder, my collection includes clothes, shoes and accessories that I wear out of the house to client appointments (but not team organizing appointments, to which I wear work-out clothing) and social events and just going about life. It does not include dog-walking clothes, exercise clothes, pajamas or underwear.
There is a huge amount of overlap between the last quarter and this one. We had a late winter, so I didn't end up wearing a lot of my winter stuff until December. So most of it stayed in the collection, though I did switch out a few items.
The first quarter 2017 collection is comprised of:
4 pairs of pants (including a pair of jeans and a pair of leggings)
2 turtleneck sweaters
3 other sweaters
2 ponchos
1 shawl
1 scarf
4 jackets/cardigans
1 dress
2 long-sleeved tops
2 short-sleeved tops
1 shell
1 pair of black flats
1 pair of long boots
1 pair of ankle boots
1 pair of dress shoes
1 necklace
3 pairs of earrings
2 coats
Here's a photo of items that live in the closet: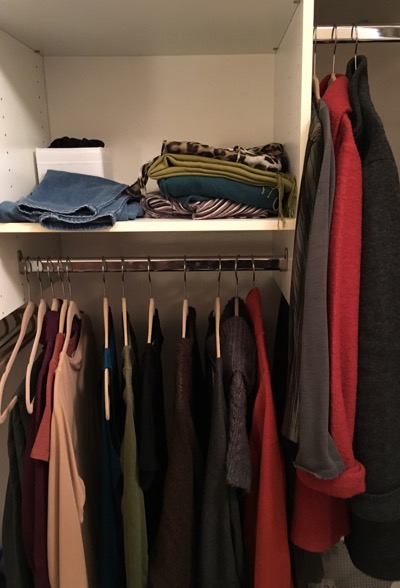 I still love dressing from this limited selection of clothing. I spend much less time and brain power figuring out what I'm going to wear, not to mention time I used to spend shopping, looking for just the right thing! I could even see creating a smaller collection, though I think I did wear virtually everything in the 2nd quarter collection at least once.
This experiment definitely strengthens my belief in the adage that less is more. I'm so glad I decided to give it a go!