Bucket List item: I'm in Real Simple!
I don't really have a bucket list, but every now and then I think about making one. If I did make one, I'd probably include: "Be quoted in Real Simple." And I'd be able to check it off! (Am I the only one who adds items to my task list that I've already done, just so I can check it off?)
Last week, I received in the mail a copy of Real Simple Organize Your Home. It's what they calla "bookazine." It looks like a magazine, though the paper is thicker and there are no ads. And it's priced like a book. ($13.99) Among the many articles in this little beauty is "Stop Paper Pileups." The subhead is, "We consulted our favorite professional organizers to learn how to reduce paper overload once and for all."
Why am I so excited? Because I'm one on of those favorite professional organizers! Also quoted in the article are Aby Garvey of Simplify 101, Kathy Vines of Clever Girl Organizing, Kathy Jenkins of Come to Order and Jennifer Ford Berry.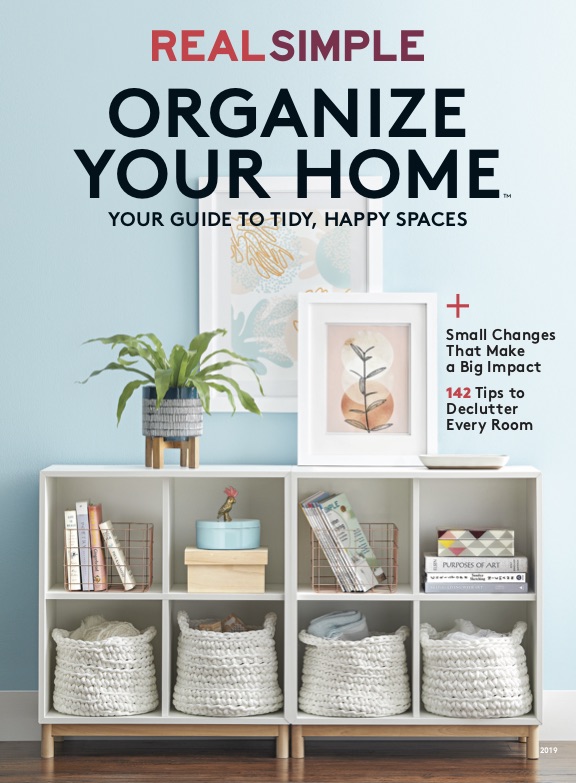 The article is actually a reprint. It first appeared in the Early Spring 2018 edition of Secrets of Getting Organized magazine, published by Better Homes and Gardens Special Interest Publications. (I blogged about it at the time.) That article was also syndicated in newspapers nationwide and in fact appeared in my hometown paper, the St. Louis Post-Dispatch. The entire issue was reprinted for Summer 2019. So this article has really had legs and has been read by a whole lot of people. I couldn't be happier about that!
If you're interested in purchasing Real Simple Organize Your Home, it's on newsstands and bookstores nationwide from now until December 6. You can find the magazine at grocery stores, home centers, big box retailers, drugstores, discount chains, as well as chain and independent booksellers.
Tagged with: aby garvey, magazines, media, real simple, secrets of getting organized