Is the iPhone X worth the high price?
I bought my first iPhone in 2012 (it was a 4S) and have upgraded every two years. Three weeks ago, I took the plunge and upgraded from my iPhone 6s to the iPhone X. I hesitated for three reasons: (1) the 6s was working quite well; (2) the X has a learning curve since the home button was removed; and (3) it costs $1149 for the 256 GB phone, which I wanted.
So is the iPhone X worth all that money? My answer is a resounding yes!
I selected the Apple Upgrade plan, which means that I'm paying some $55 a month over two years, after which the phone is mine. Or I can turn the phone in any time after one year and upgrade to a new phone without having to pay the balance. The monthly payment includes Apple Care.
Here's a picture of my phone's lock screen: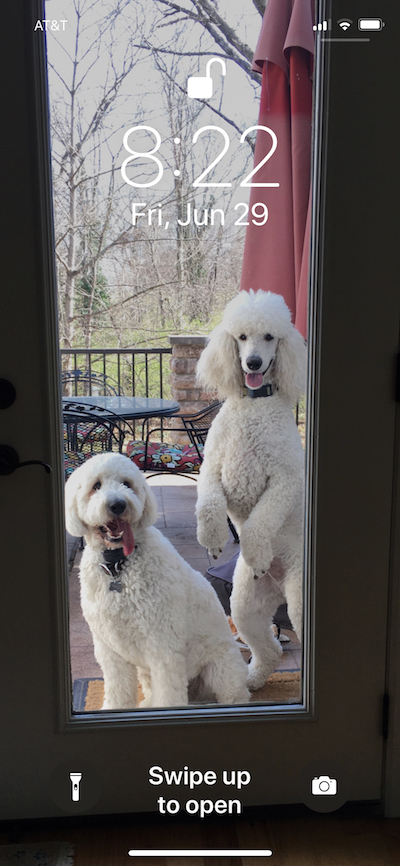 That's my standard poodle, Bix, on the right with his BFF, Finn.
The main reason I was drawn to the iPhone X is that its screen covers the entire front of the phone, which means that I get a much larger screen without a significantly larger phone. That's great for me because my aging eyes were having trouble reading the iPhone 6s. I went from a phone that is 5.44" tall x 2.64" wide with a 4.7" display to a phone that is 5.65" × 2.79" (just a little bit larger) with a 5.8" display. That extra 1.2 inches makes a big difference.
I'm happy to report that I did not experience a learning curve. Swiping up, rather than pressing the home button, has come very naturally to me. In fact, I find the iPhone X easier and more enjoyable to use than my others, all of which I loved.
And I'm also enamored of the Face ID. Rather than using my fingerprint or entering a code to open my phone, I just look at it. I'm amazed how well that works. And it works every time (unlike my fingerprint on my 6s). I haven't had any problems with Face ID when I use Apple Pay, though I'd been warned that I might.
I'm not a big photographer, but I use my phone's camera a whole lot. (Pictures of Bix are liberally sprinkled throughout my photo stream.) The iPhone X's camera is amazing. I haven't even yet availed myself of all the features and I can still appreciate how good it is.
Since I have Apple AirPods (which I also love), I haven't missed the absence of the ear phone jack. I was happy the new phone came with an adaptor so I can use my Square card reader, which attaches to the phone jack.
I immediately purchased a new Loopy case when I bought the phone, so I'm not worried about dropping my expensive new device.
And, finally, my iPhone X is much faster than my iPhone 6s was. I'm one happy camper. I'm fortunate to be able to afford the $55 a month charge and I feel the phone is worth it.
Tagged with: apple, iphone, productivity, technology