Thirty-One Organizing Utility Tote review -- and a giveaway!
I'd been hearing good things about the bags, totes and accessories from Thirty-One , so when Thirty-One Independent Consultant, Jessica Wright, emailed me and offered to send me a bag to test and do a reader giveaway, I jumped at the chance.
Thirty One offers attractive, functional, and affordable bags and totes in fun patterns. Today, August 1, is the launch of their new fall catalog, so it seemed like a great day to blog about it.
I'd been looking for a good bag to take to client appointments. I've been in business six years, and I still haven't streamlined what I take to each appointment. There are certain things I like to have on my person (rather than in the trunk of my car), but I didn't have an attractive bag in which to carry everything. Truth be told, sometimes I'd enter a home with multiple bags, looking less than the picture of organization.
Jessica suggested the Organizing Utility Tote, and when I looked at the photo of the roomy tote with its exterior prockets, (which you can see on page 15 of the catalog), I decided to give it a try. When Jessica mentioned on the phone that a standard desktop file box can fit inside the tote to offer structure to the interior (or to carry files), I was excited to try it out.
I ordered the tote in the pattern Paparazzi Dot because I liked its monochromatic sophistication.
I loaded it up with supplies I typically like to have on hand for paper-related organizing. (I do a lot of paper-related organizing.) I often bring along my sample Action Box for handling mail, so I stuck that in the interior of the bag and added some generic grey file folders just to have on hand.
Here are top and side views of the loaded-up tote.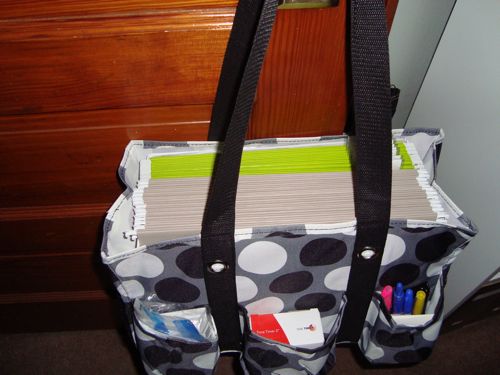 For today's appointment, where we'll be setting up a home office, I took out the sample Action Box and put in an empty desktop file box and filled it with my label maker and accessories, along with a few filing supplies and catalogs.
I love it!
There's a flat center panel on one side of the tote, which is the area that would be personalized. I'm not a big personalization person, so mine's blank. What's great about that flat panel is that if I carry the bag on my shoulder, it lies flat against my side.
The bag itself is light weight, so even loaded up it doesn't weigh a whole lot. I give it a thumbs up!
Jessica has a fun Facebook group in which she does giveaways and so forth. You might wan to join.
Here's the giveaway part!
Jessica has offered a $25 gift certificate toward any Thirty-One product to one lucky reader of my blog. ($25 is what the Organizing Utility Tote costs!)
To enter, simply make a comment on this blog post. You can also receive additional entries by tweeting about the giveaway. Be sure and use @janinea in the tweet, so that I will see it. The contest ends at noon, central time, on Saturday, August 6. The winner will be notified on Sunday, August 7 and I'll announce the winner here on the blog on August 8.
Tagged with: giveaway, thirty-one